Hurting religious sentiment won't be allowed: PM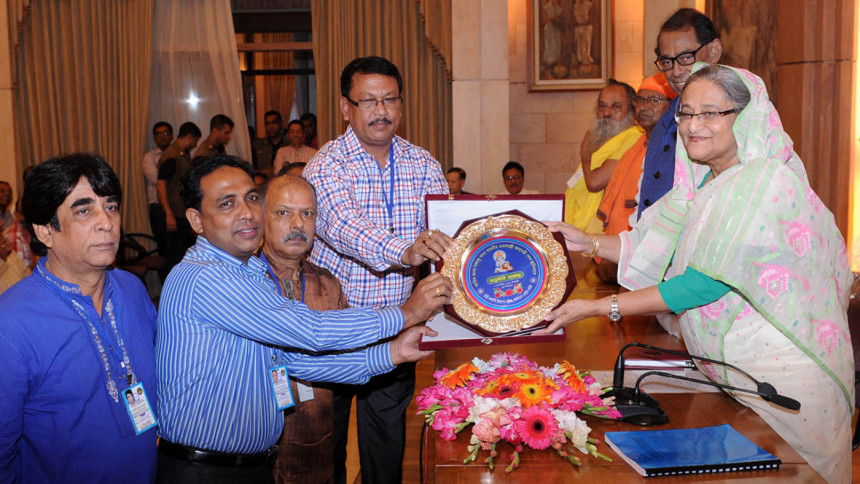 Prime Minister Sheikh Hasina today issued a strong warning against hurting religious sentiment, saying her government will not allow speaking against anybody's religious faith.
"The people will perform their respective religions. If anybody has no intention to perform his or her religion, he or she may do so. But he or she has no right to hurt others' religious sentiment," she said.
Hasina also made it clear that anyone trying to hurt others' religious sentiment by their talks or speech will not be tolerated.
She came up with the warning when leaders of the Hindu community called on her at her official Gono Bhaban residence this afternoon on the occasion of Janmashtami.
"Everybody will show honour to his or her respective religions. Likewise, he or she would have to honour others' religion, and if it happens so, that would uphold the dignity of own religion....this is the reality, which we want to practice in Bangladesh," she said.
Awami League Advisory Council Member Suranjit Sengupta, Religious Affairs Minister Principal Motiur Rahman, State Minister for Youth and Sports Biren Sikdar, State Minister for Fisheries and Livestock Narayan Chandra Chanda, President of Bangladesh Puja Udjapon Parishad Kajal Dev Nath, General Secretary Jayanta Kumar Dev, President of Janmashtami Udjapon Parishad Ramesh Ghosh, President of Mohanagar Sarbajanin Puja Committee JL Bhowmik and former president of Janmashtami Udjapon Parishad Debashish Palit spoke on the occasion.
Earlier, a one-minute silence was observed as a mark of respect to Father of the Nation Bangabandhu Sheikh Mujibur Rahman and other martyrs of August 15 carnage as well as the martyrs of the August 21 grenade attack.
On the occasion, leaders of Janmashtami Udjapan Parishad, Bangladesh Puja Udjapan Parishad and Mohanagar Sarbajanin Puja Committee greeted the prime minister by presenting bouquets and a crest to her.