Shahanaj gets back her sole source of income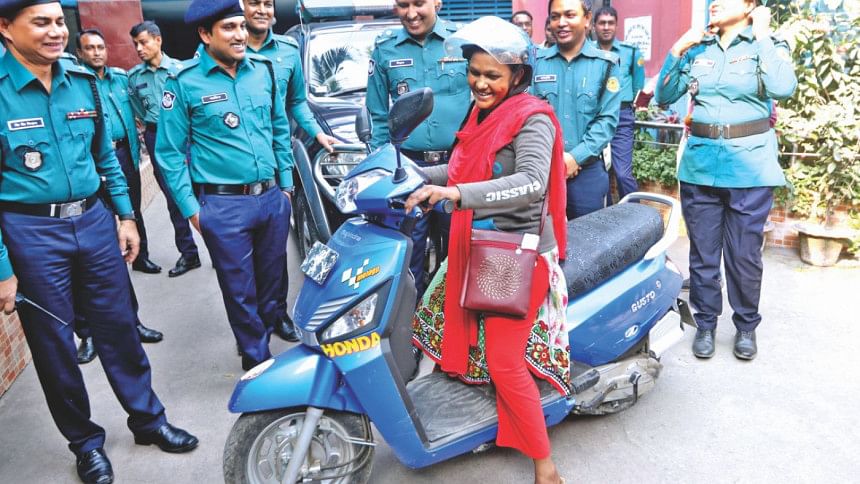 As police were trying to recover her stolen scooter, Shahanaj Akhter did not take off her helmet even for a second. She said the helmet was the only thing making her feel that the scooter was still with her.
She was ecstatic after police returned her scooter – her only source of income – within just 10 hours of lodging a complaint with Sher-e-Bangla Nagar Police Station.
Shahanaj became a social media sensation less than a week ago for her struggles to provide for her family by working as ridesharing service provider – a profession that does not usually draw women in Bangladesh yet. 
"The whole incident seemed like an episode of the Indian TV show 'Crime Patrol'. I watch the show where Indian police act this way. Like an eagle, police picked him [the thief] up and recovered my scooter," a visibly emotional Shahanaj said at a press conference held at the office of Deputy Commissioner of Dhaka Metropolitan Police's Tejgaon Division.
Led by an Assistant Commissioner of Tejgaon Zone, Abu Tyab Md Arif Hossen, police arrested the thief, Zubaidul Islam alias Jony, 27, from his home in Raghunathpur area of Narayanganj around 3am yesterday and the scooter was also recovered from there.
Shahanaj said it was beyond her imagination that police could recover her scooter so soon. She thanked police, journalists and everyone who helped her cause.
The single mother of two came to limelight when her story was posted on Facebook by online activist Rafiuzzaman Sifat. The post has been shared nearly 10,000 times, with many lauding her courage and steely resolve.
"I took the responsibilities of my daughters. This scooter is the only source of my income and every morning I need to give Tk 100 to my daughters for their meals," Shahanaj said.
After her scooter was stolen, many tried to console her while some suggested looking for a different job. But she was adamant, because she liked this job.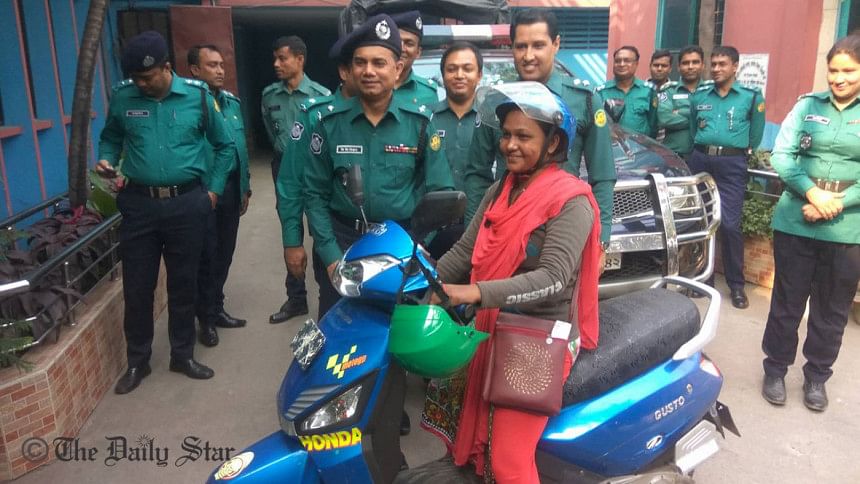 Shahanaj said that she would be grateful if she could land a permanent job that involves riding a bike, providing her a stable income.
Knowing that she hasn't had any income for two days, the Tejgaon DC Biplob Kumar Sarker handed her Tk 10,000 on behalf of the department, though Shahanaj was initially reluctant to take any financial help.
"It's not a handout. We want to stand by this woman trying to earn an honest living," the DC said.
Asked if police can also perform with such efficiency in other instances, Biplob said police always tries to do so, but sometimes are not successful.
"This time we got the clue from the victim as she talked with the accused over phone. The mobile tracking support led us to the thief," the DC added.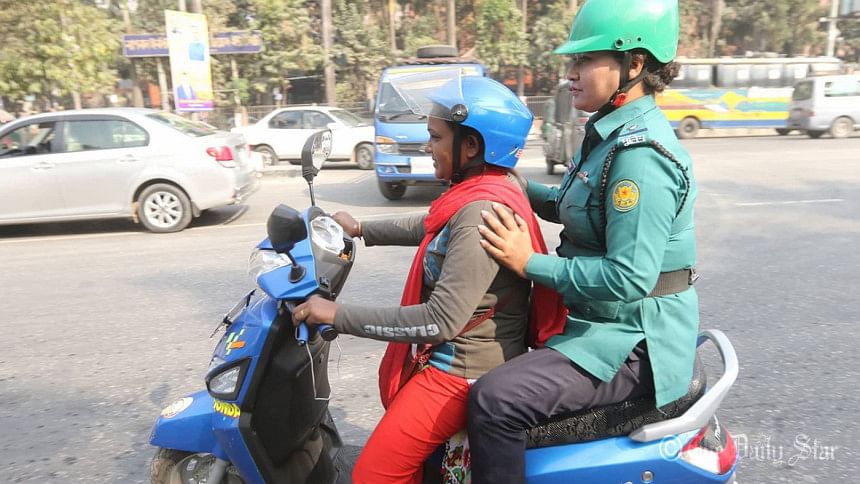 On Tuesday, Zubaidul alias Jony introduced himself as a driver of a ridesharing service, and promised Shahanaj full-time employment.
After driving around the city for a while, Zubaidul wanted to go on a test ride. When Shahanaj gave him the scooter, he took off and fled the scene. Shahanaj followed him but failed to track him down.
Hailing from Barishal, Zubaidul said to police that he is a master's student at the English department of Tejgaon College.
Zubaidul was produced before a Dhaka court yesterday and Metropolitan Magistrate Shahidul Islam granted a two-day remand.