Fakhrul gets 3-month bail on health ground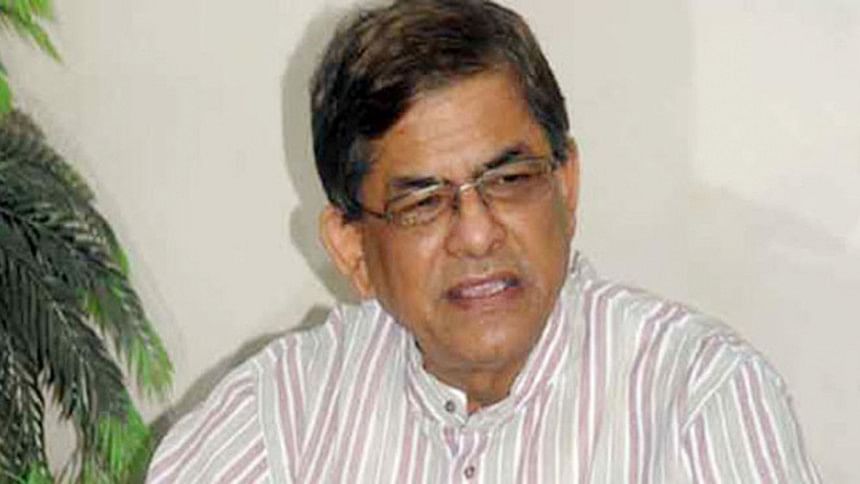 -- Fakhrul granted bail in 3 cases
-- He will now come out of jail
-- Court disposes of 3 rules upon govt
The High Court today granted a three-month bail to BNP acting secretary general Mirza Fakhrul Islam Alamgir in three arson and vandalism cases.
There is no legal bar to Fakhrul's release from jail, AKM Ehsanur Rahman, a lawyer for the BNP leader, told The Daily Star.
The HC bench of Justice MD Rezaul Haque and Justice Md Khasruzzaaman granted him bail on medical ground, the lawyer said.
The HC came up with the order after disposing of three rules issued on June 21 asking the government to explain why the BNP leader will not get regular bail in the cases.

Also READ: Khaleda back home

On November 2, the Supreme Court ordered Fakhrul to surrender before a lower court after hearing three separate petitions lodged by Fakhrul seeking an extension of its order that granted him bail in the cases.
The cases accuse Fakhrul and other party leaders and activists of vandalising and torching vehicles in the capital on January 4, 5 and 6.
Of the three cases, Fakhrul and 28 others have been made accused of vandalising and torching a bus at Gulistan on January 4.
The second case alleged that Fakhrul and 49 other BNP leaders and activists brought out a procession and later set fire to a motorbike of a policeman at Fakirapool on Jan 5.
According to the third case statement, a BRTC bus was torched near Bangabandhu National Stadium in Paltan on Jan 6 by a group of BNP leaders and activists, including Fakhrul.
Except the three cases, Fakhrul, who stands accused in 89 cases, has got bail from the HC and lower courts in other cases.
The BNP leader was first sent to jail on May 16, 2012, after his surrender before another Dhaka court in connection with a case filed for torching a vehicle in front of the Prime Minister's Office (PMO) on April 29 that year.