Engagement with local govt empowers people: Experts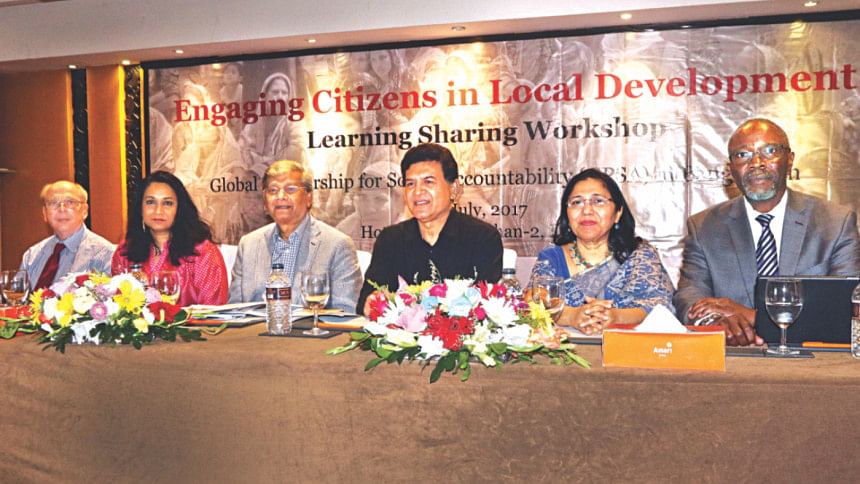 Citizen engagement with local government institutions has significantly increased the proactive disclosure of information, strengthening people's ability to hold union parishads accountable in their activities, such as in project implementation, annual plan and budget drafting, said policymakers and experts yesterday.
They said participation of locals, especially women and marginalised communities, also increased in budget and ward meetings following implementation of two projects, SEBA and JATRA, under Local Government Support Project 2, which ends this month.
Manusher Jonno Foundation (MJF) implemented SEBA, and CARE Bangladesh JATRA, in 45 unions of seven districts in the last three years.
The projects' outcomes were shared at a workshop, "Engaging Citizens in Local Development -- Lessons Learned from the Experience on the Ground of Global Partnership for Social Accountability (GPSA)" in Hotel Amari in the capital.
GPSA, MJF, CARE and the World Bank organised the workshop, revealing the impacts and lessons of constructive citizen engagement under the GPSA framework.
Emphasising continuation of such projects focusing on local governance in Bangladesh, State Minister for Finance and Planning MA Mannan said civil society always monitored activities of elected bodies, and this was very important for development.
"We have very vibrant civil society groups in our country, mostly at the national level. They will have to work at the local level to monitor development works," said Mannan. He appreciated activities carried out under SEBA and JATRA.
Power and Participation Research Centre Chairman Hossain Zillur Rahman said effective engagement of citizens was the key to reaching larger goals, both in Bangladeshi and global context. "This is the largest issue not only in Bangladesh but also around the world and important for local development," said Rahman, former adviser to a caretaker government.
"A few years ago we asked people to raise their voice and now we are asking them to raise their voice strongly, which is very important and under this project people also learned to raised their voice strongly and effectively," he added. "For innovation we also need to ensure citizen engagement," said Rahman.
Shaheen Anam, executive director of MJF, said citizen engagement was critical to increase the impacts of development projects at the local level.
"We have faced a number of challenges but found huge success in our projects and received a great deal of support from the government and built partnership with local government bodies," added Anam. She also said opinions of ordinary citizens, including women, would have to be valued.
Country Director of CARE Bangladesh Nick Webber said their organisation had long experience working with local government in Bangladesh, and was committed to collaborating and sharing resources and experiences.
Rajashree S Paralkar, operations manager at the World Bank, and Jeff Thindwa, practice manager at GPSA, gave presentations.
They said allocation for health, human development, and water supply increased, the amount was reduced for infrastructure development from 2014 to 2016.
Following implementation of the projects, citizen participation also increased significantly, especially of women and poor people, according to the presentations given by Ziaul Karim from SEBA and Anowarul Huq from JATRA. They said locals' presence in union parishad meetings was around five percent previously; later it went up to 68 percent while issues raised by the poor and women reached 55 percent and 25 percent respectively.
The event was chaired by Luiza Nora, citizen engagement coordinator for South Asia at the World Bank.