Draft verdict leak: SQ Chy's wife, son indicted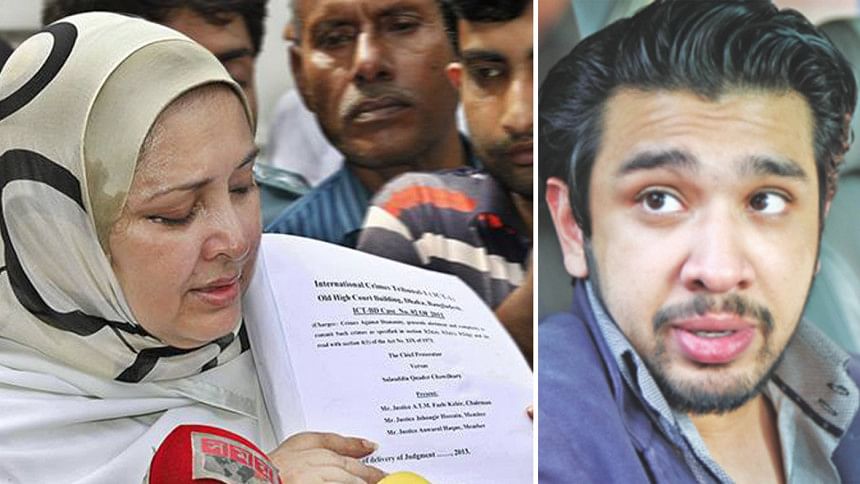 A court in Dhaka today framed charges against seven people including wife and son of war criminal Salauddin Quader Chowdhury over the leak of the draft of verdict in war crimes trial.
Judge KM Shamsul Alam of the Cyber Tribunal fixed March 28 to start the trial.
The accused are Salauddin's wife Farhat Quader Chowdhury, son Hummam Quader Chowdhury, his counsel barrister AKM Fakhrul Islam, manager Mahbubul Ahsan, Advocate Mehedi Hassan, tribunal's muster roll staff Noyon Ali and peon Faruk Hossain.
Farhat, Hummam and Fakhrul, now on bail, pleaded not guilty and demanded justice after the charges were read out to them.
Three other accused, now in jail, also pleaded the same appeal.
Mehedi Hasan, an accused in the case, is on the run.
The draft verdict in SQ Chy's war crimes case was leaked a day before the verdict was handed down by the International Crimes Tribunal -1 on October 1, 2013.
A three-member ICT-1 awarded the death penalty to the former BNP lawmaker for committing crimes against humanity and genocide during the 1971 Liberation War.
Immediately after the pronouncement of the verdict, the convict's family members and defence lawyers told the media that the verdict was available on different websites before the tribunal delivered the judgment.
They claimed "the copy of the verdict' was in a computer at the law ministry.
On November 21, 2013, police arrested Fakhrul for his alleged involvement in leaking the draft verdict against Salauddin.
The condemned war criminal was finally hanged on November 22 last year at 12:55am along with Al-Badr leader Ali Ahsan Mohammad Mojaheed.