Transnational Crime Gangs
Dev makes Bangladesh attractive target
US envoy Marcia Bernicat tells conference in Dhaka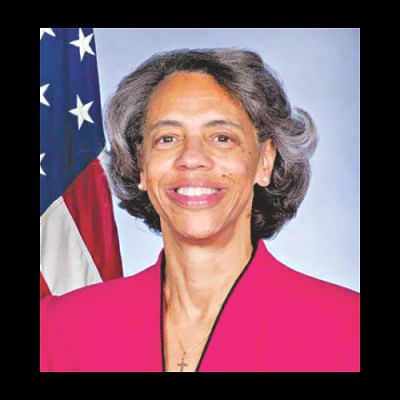 US Ambassador in Dhaka Marcia Bernicat has said Bangladesh, in some ways, becomes an especially attractive target for transnational criminal organisations of all types because of its remarkable track record in development, economic growth and secular governance.
Addressing a conference on "Transnational Organized Crime as a Global Challenge", she highlighted the need for close regional and international cooperation to address a criminal threat that transcends borders.
Together the US and Bangladesh can dismantle criminal and insurgent groups that were once considered to be impenetrable and untouchable, the envoy said. "You are by no means alone in this fight, but make no mistake; you are in this fight, not immune from it."
The conference started at Police Staff College in the capital on Monday, according to a US embassy press release.
Bernicat said joining efforts also meant boosting other relationships, particularly at the government-to-government level.
"Our intelligence services, for example, must serve as models of collaboration between themselves and with law enforcement agencies. Information freely collected, analysed and shared is a powerful antidote against transnational crime. When information is withheld, lives are lost," she added.
Bernicat said the United States and Bangladesh shared an impressive partnership in addressing transnational organised crime. "It is in the spirit of our collaborative partnership that we come together for this important program."
She mentioned that Bangladesh was not alone in facing the challenges of transnational crime and had acted with urgency to adopt new policies to prevent violent extremism and counter-terrorism.
Prime Minister Sheikh Hasina joined President Barack Obama and other global leaders to address the common threats of violent extremism and terrorism at this year's United Nations General Assembly, Bernicat said.
 "We must act together because we are a globalized world. For better and for worse, what happens in one country affects the citizens of another," she said.
Bernicat said South Asia was large, populous, and rapidly developing and the region's evolution and well-being mattered to countries far away, including her own. "Peace and stability in South Asia makes for a more peaceful and stable world."
Offices of the US Embassy to Bangladesh, the British High Commission, and the government of Bangladesh sponsored the conference.