Country observes 9 years of BDR carnage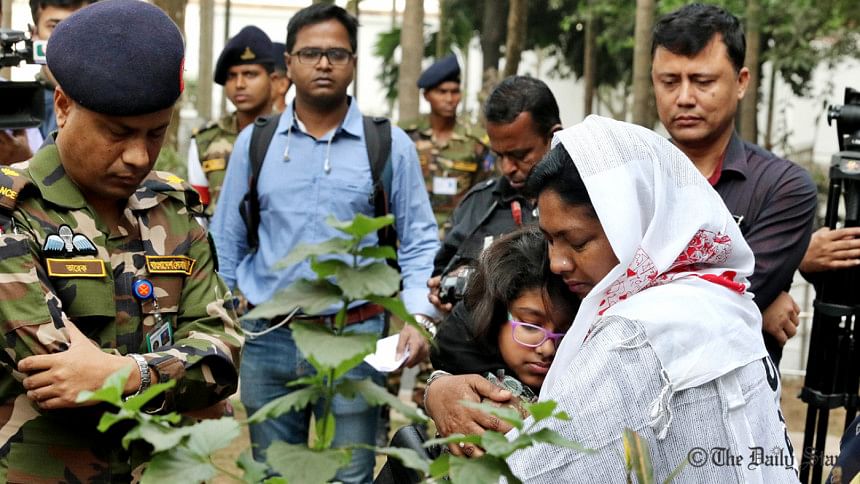 As the nation is observing the anniversary of the BDR mutiny today, victims' families have gathered on the premises of Banani graveyard to pay homage to those who lost their lives in nine years ago.  
The chiefs of three defence forces and the chief of Border Guard Bangladesh (BGB) first laid flowers on the graves of the deceased around 9:00am, reports our correspondent.
Read More: 9 Years of BDR Carnage: Still waiting for justice
The families of the victims' also said their prayers and laid flowers on the graves of their loved ones. They said they are waiting for the execution of the verdict in a case filed over the killings of their near and dear ones.
"No one will forget this day. Fifty seven army officers were martyred. I hope the day is valued with due respect," said Lucky Sarwar, sister of Maj Kazi Mosaddek Hossain who is among the army person killed during the mutiny. Lucky went to the graveyard with Mosaddek's daughter Laika to pay their homage.
A BNP delegation, led by its standing committee members also placed wreaths at the Banani graveyard around 10:30am.
The members paid their tributes to the victims and offered prayers seeking eternal peace for the departed souls.
BNP's national standing committee member Lt Gen (retd) Mahbubur Rahman, Maj (retd) Hafizuddin Ahmed also the vice chairman of the main opposition BNP and Air Vice Marshal (retd) Altaf Hossain Chowdhury were present.
A 'doa mahfil' was also arranged by the army for salvation of the departed souls.
A total of 74 people, including 57 army officers, were killed when the mutineers revolted on February 25, 2009, which was fixed for the yearly Darbar (assembly) of the force during the BDR Week-2009.
The massacre started when the former BDR director general Maj Gen Shakil Ahmed was addressing the Darbar around 9:00am on February 25 in 2009. Among the gathering of officers and lower-tier personnel, a group of jawans created a commotion pressing for some demands, including pay and benefits.
The mutiny had left the nation benumbed, as people stood aghast at the extent of the barbarity perpetrated at the Pilkhana headquarters of the paramilitary force, later renamed Border Guard Bangladesh (BGB).
The High Court announced the verdict in the case in November last year, but it was yet to release the full judgment.