Civil servants should enhance performance
Gowher Rizvi tells regional confce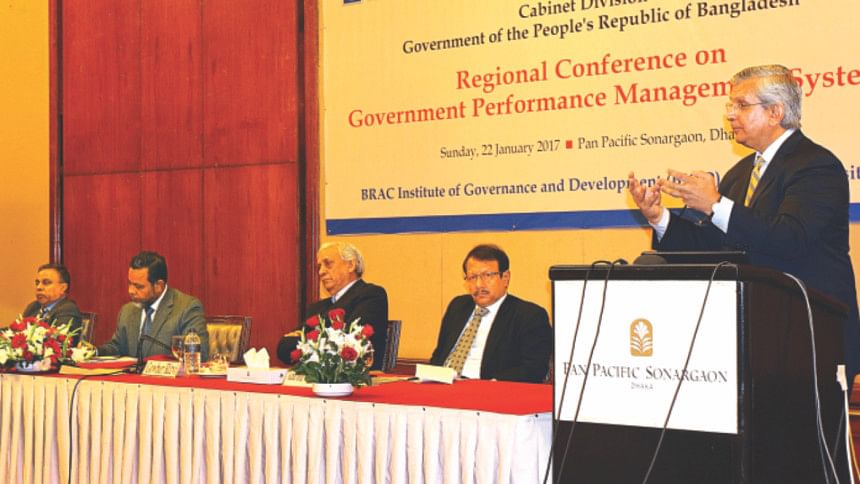 People will lose trust in the government if quality of public service deteriorates, Prime Minister's International Affairs Adviser Gowher Rizvi said yesterday, calling upon civil servants to improve their performance.
"If trust in our government is lost, the door will be open for the populists and the dictators and so forth," he said, and described such a situation as "dangerous".
People evaluate a government through the services, the political scientist told a regional conference, "Government Performance Management System (GPMS)", at the capital's Sonargaon hotel yesterday.
The cabinet division, Brac Institute of Governance and Development, and Brac University organised the event in association with The World Bank.
Rizvi said the Bangladesh government was committed to improving quality of services, and introducing GPMS in 2015 was part of that goal. 
Since 2015, the secretary of every ministry has been signing an Annual Performance Agreement (APA) with the cabinet secretary, in which the ministry sets targets for a year and rates the performance at the yearend. Its objectives include improving overall performance, transparency, accountability and effective use of resources.
Prime Minister's Office (PMO) Principal Secretary Dr Kamal Abdul Naser Chowdhury said the role of civil servants was crucial in social transformation. "They can be heroes in their communities if they work seriously," he added.
PMO has introduced the public administration award for good work, and is working on introducing an innovation award to encourage innovation by civil servants, he said.
Referring to the agreement, the principal secretary said there was a tendency of the ministries to set conservative targets so that they got good progress scores. But now is the time of sustainable development goals (SDGs), so ministries need to have ambitious goals, he added.
Dr Prajapati Trivedi, former secretary of Performance Management Division of India, suggested performance-based incentives to public officials to improve their performance.
He said each and every step of the government activities has to be transparent so that all officials responsible for certain jobs remain accountable. 
"A good system can check 80 percent of corruption," he said.
Malaysia's Performance Management and Delivery Unit Director Ravindran Devagunam said when people found the government fighting corruption and crimes, investors from home and abroad had confidence and made more investments driving the economy.
Such an effort by Malaysia in 2009 eventually led to creation of 3.3 million new jobs within a few years, he added.
Malaysia has developed systems where the government is less bureaucratic and the decisions made are more data-driven, Ravindran added.
PMO's Principal Coordinator (SDGs) Abul Kalam Azad, Cabinet Secretary Shafiul Alam, Cabinet Division Secretary (coordination and reforms) NM Zeaul Alam, Bhutan's head of governance performance system Chencho Dorji, and BIGD Executive Director Dr Sultan Hafeez Rahman also spoke.