Charges would be framed in absentia
Court warns Khaleda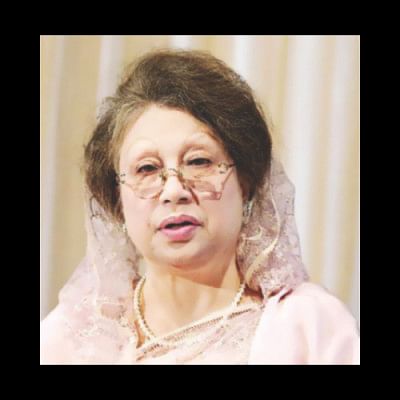 A Dhaka court yesterday again warned that charges would be framed in the absence of BNP Chairperson Khaleda if she fails to appear before it on March 28 in 11 criminal cases, including a sedition one.
Judge Kamrul Hossain Mollah of the Metropolitan Sessions Judge's Court of Dhaka passed the order after Khaleda's lawyer Sanaullah Mia submitted 11 separate petitions seeking adjournment of the hearing.
In the petitions, Sanaullah said Khaleda could not appear before the court due to her physical illness, adding that she was ready to appear during yesterday's hearing.
Metropolitan Public Prosecutor Abdullah Abu, however, opposed the petitions saying that Khaleda had earlier taken several dates citing different reasons. So she skipped the court proceedings to delay the charge hearing.
After the hearing, the court said Khaleda was given the last chance considering her illness. After that, she will not be given more time, the judge added.
Of the 11 cases, 10 were filed with Jatrabari and Darussalam police stations in the first three months of 2015 over arson attacks on vehicles. And the other was filed with a Dhaka court for making seditious comments about freedom fighters and the Liberation War martyrs.
Police in May and June last year pressed charges in nine cases against Khaleda and more than 80 leaders and activists of the BNP-led 20-party for arson attacks on buses during the three-month movement by the alliance in 2015. On Sunday, the Supreme Court cleared the way for a lower court to continue her trial in the Zia Charitable Trust graft case.
The High Court last week transferred the Zia Orphanage Trust corruption case against Khaleda to Dhaka Metropolitan Senior Special Judge's Court, and asked it to complete the trial within 60 days after receiving the order.