Buddhist monks spreading harmony offering Iftar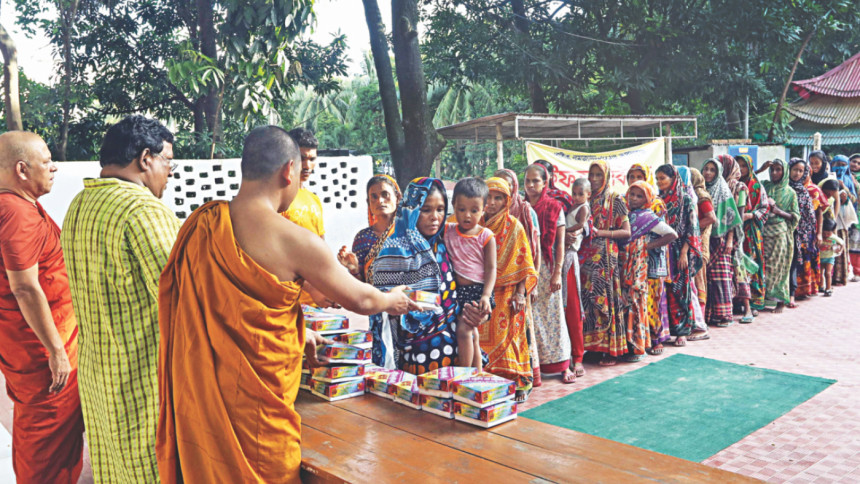 If you visit the Dharmarajika Buddhist Monastery in the capital's Sabujbagh this month, especially in the evening, you will see a stream of people, forming long queues and awaiting patiently.
Usually queues and commotion go hand in hand, but there is a mystifying quietness here, except for the soothing chant that can be heard once in a while - sattā sukhi hontu (May all beings be well).
The long lines, comprising poor people, are waiting to be served Iftar.
Every day, the monks at the monastery arrange Iftar for about 500 people.
This is not the first time they are distributing free Iftar in Ramadan, they have been doing this for the last six years, said monastery chief Sanghanayak Suddhananda Mohathero.
"Both the Muslims and Buddhists fast in a different way as a part of their religion. So, I thought of doing something that will not only help people but also strengthen communal harmony," he said.
Although serving Iftar began six years ago, he said that they had also cooked Iftar for the Muslim people who had worked during the initial years of its establishment in 1960.
The monastery authority said they also allotted seats for different communities including Hindus and Christians in the Dharmarajika Anathaloy [orphanage centre] that was established in 1972.
"We want to maintain a communal harmony, which is the base of this country," he said as he was looking after the preparation of the Iftar items, which included chickpeas (chhola), onion, piyaju, dates, and muri.
Suddhananda, who was awarded Ekushey Padak for his social works in 2012, likes to distribute iftar by himself and supervises the entire initiative daily. As he was talking, Iftar preparation was almost ready and was being put in boxes and placed over a big table.
He hoped that all the religious communities will come forward in their own way to help all despite their creed, caste or religion.
The monastery authority said that before starting the event, they contacted local Islamic scholars to ascertain whether there would be any problem if they conducted the event. After getting positive answers they appointed a local restaurant owner to make the Iftar in their kitchen, they said.
Mohammad Aziz, a day labourer who came to receive Iftar, told this correspondent that they were very grateful for the monastery's gesture. "They arranged this to help the poor, which is all that matters," he said.  
Echoing Aziz, Sathi Akhter and Zarina Begum, who also went there for iftar, said every religion teaches us to love other human beings, and the monks' actions reflected that. They said there was no language to express their gratitude.  
Abdur Rahman, an aged person, who visited the monastery regularly to receive Iftar, said he always prayed for the welfare of the monastery, as they continued to help others.
"When some people are spreading anti harmonious messages, these monks are spreading their arms to help the people of another community. It is really special," said Abdus Salam, owner of Salam Dairy Farm in the area, adding that everyone should learn from this.
"If you want to help someone from your heart, you should not judge his or her religion, customs or culture; you just need to do it in good faith with the spirit of helping others and for their wellbeing," said the monastery chief genially while handing iftar boxes to a group mostly comprising women.
Meanwhile, on Tuesday, the monastery chief received a death threat. The letter did not name anyone but mentioned the chief principal as the recipient.
When asked, an adamant Shudhananda said, "My passion is to serve people. We will keep on continuing our programme."
Yesterday, a delegation of Indian High Commission led by Rajesh Uike, first secretary of the commission, met with the monastery chief and expressed solidarity.