Brac University teacher's termination withdrawn
Asst registrar, officer resign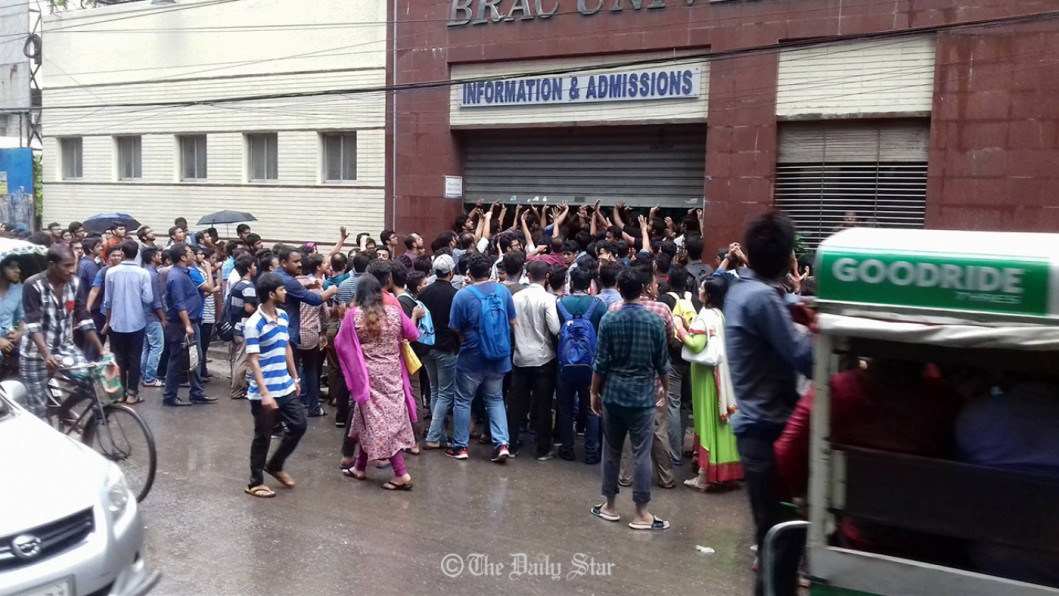 Amid protest of students, the authorities of Brac University today withdrew the termination of law department lecturer Farhaan Uddin Ahmed.
The university also accepted the resignation letters of assistant registrar Md Mahi Uddin and senior officer at the office of co-curricular activities Jabed Rasel, according to a press release issued this evening.
The steps were taken in line with the demands of the students who have been agitating protesting assault on the law department a lecturer allegedly by its registrar, according to the press release.
According to a notice published on the university's website also stated that its registrar has applied for long leave and the vice chancellor has approved it effective from Sunday, August 6.
READ MORE: BRAC University: Students protest 'assault' on teacher
Besides, a committee of the university has started investigation on the complaint regarding the assault on a female student allegedly by security guards during demonstrations on August 1.
Earlier on Thursday, six students ended their hunger strike following an assurance of the university Proctor Prof Samia Haq.
The university also reconstituted a five-member probe body over the teacher assault and suspended the classes for two days – Wednesday and Thursday.
Earlier, Farhaan, who joined the university as a lecturer in July last year, filed a complaint with Banani Police Station, accusing the three of assaulting him.
On his Facebook page, Farhaan also wrote he had been called to the registrar's office July 30 and then to the human resources department where he was handed a cheque and documents for immediate termination of his contract with the university.
He refused to accept the cheque and documents. As had submitted an official grievance application against the administration, he refused to accept the documents.
Protesting the incident, students took to streets for three consecutive days.