Bibir Pukur lies neglected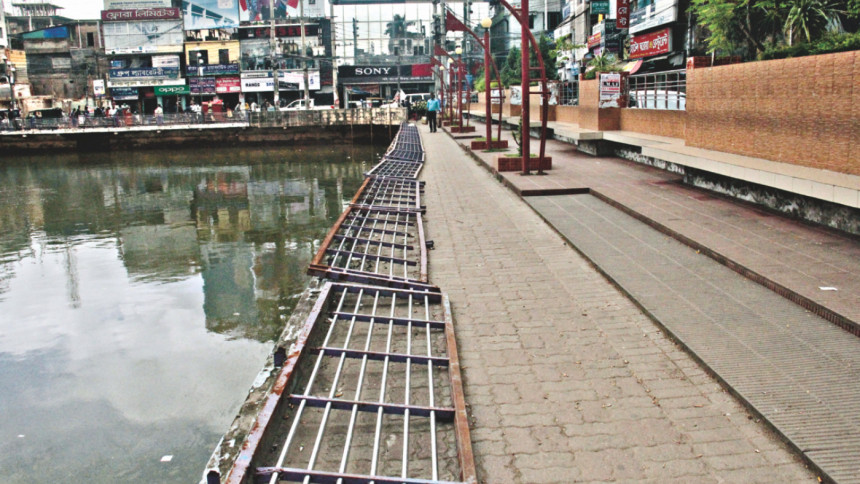 Located in the heart of Barisal city, the 200-year-old Bibir Pukur remains in an awful state due to negligence of the authorities concerned.
Even a portion of the boundary grille of the pond had collapsed around a year ago, but the authorities are yet to start its repair work.
While visiting the area recently, it was seen that most of the fountains beside the reservoir have been damaged and the collapsed grille remained unfixed.
"Due to the damaged grille, we don't use the walkway anymore," said Rebeka Sultana, a resident of the area. Nurul Alam Farid, an elderly resident, echoed her.
Back in August 2016, a heavy billboard was set up near the banks, which fell on the grille due to heavy wind. The billboard ultimately blocked the walkway and ruined the beauty of the pond owned by the Barisal City Corporation (BCC).
Though the billboard was eventually removed, the fence is yet to be repaired.
In 2012, a beautification project for the reservoir was undertaken at a cost of Tk 1.1 crore. Fountains, fences and walkways were built surrounding the pond for the city dwellers and for its protection.
The pond, located near the Sadar Road (Ward-17), is not just a recreational place for city dwellers, it is also a part of their heritage, said many of the locals.
The legend goes that during the middle of the 18th century, Jannat Bibi, adopted daughter of missionary William Carey, one of the scholars who tirelessly worked for the improvement of Bangla prose, took the initiative to dig up the reservoir. Jannat wanted people of the city to have a source of drinking water.
But due to a lack of proper maintenance, the over two-acre pond is now in death throes.
Akkas Hossain, a freedom fighter, said, "The water has become toxic as people continue to dump waste in it."
Linkon Bayen, Barisal district unit co-coordinator of Bangladesh Environmental Lawyers Association, said, "Except for monsoon, the pond remains a dirty water body. The water also emits bad odour."
Aktaruzzaman Hiru, councillor of Ward-17, said the BCC is working to restore the pond. They have already stopped leasing out the water body for fish cultivation.
Contacted, BCC Mayor Ahsan Habib Kamal said, "A project has been finalised to revive the water body. We are awaiting approval of the department of local government in this regard."
When asked about removing or repairing the damaged grille fence, the mayor reiterated his previous statement.