BGB will be best border force
Hopes PM at BGB Parade marking its Day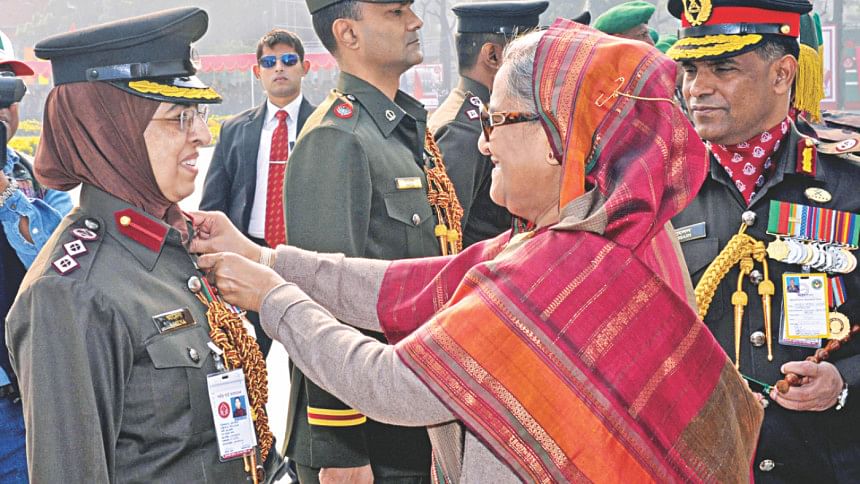 Prime Minister Sheikh Hasina yesterday expressed her firm optimism that Border Guard Bangladesh (BGB) would move forward upholding its glorious history and turn into the best border force in the world.
She, however, termed the February 25-26, 2009 BDR mutiny at Pilkhana a black chapter in the history of the force. The Border Guard Bangladesh Act-2010 was enacted to build a modern border force, she added.
The premier was addressing the BGB Parade marking Border Guard Bangladesh Day-2016 at its Pilkhana headquarters in Dhaka.
Hasina said the BGB flag was raised on January 23, 2011 to expedite its operational activities.
Home Minister Asaduzzaman Khan and BGB Director General Maj Gen Abul Hossain received the prime minister who was given a state salute amid the national anthem.
Hasina handed over BGB Medal to 10 BGB members, President Border Guard Medal to 20, BGB Medal-Service to 10 and PBGM-Service to 19 BGB members for their courageous and brilliant contributions to various activities of the BGB.
Hasina recalled the glorious role played by the members of the then EPR, now BGB, during the War of Liberation.
Hasina said border killing is a cause of grave concern, claiming that such killings came down remarkably in the recent years.
She said recruitment of female members in the BGB is an epoch-making chapter in the history of women empowerment in the country. Process is going on to recruit 100 more female soldiers in the 90th batch, she added.
After the parade, the prime minister addressed a Darbar of BGB at Bir Uttam Fazlur Rahman Khandakar Auditorium.