Siblings' killing: Mother on 5-day remand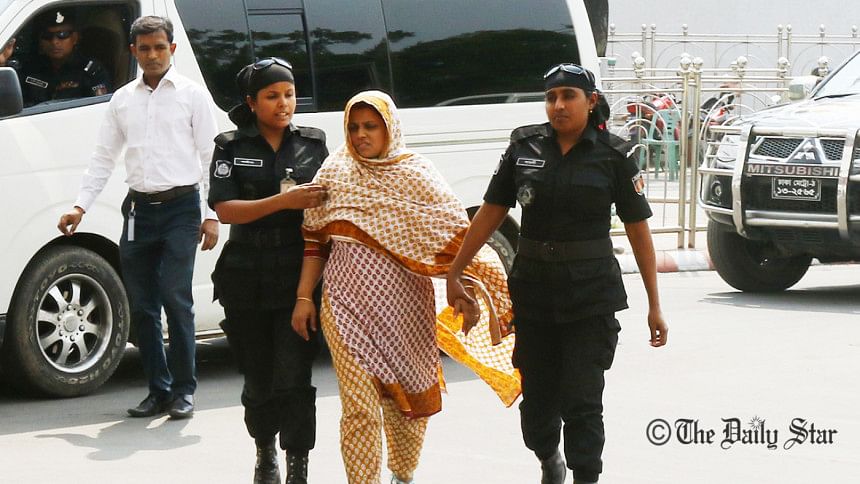 A Dhaka court today placed Mahfuza Malek Jesmine on a five-day remand in a case filed against her for killing her two kids in Banasree area of Dhaka on Monday.
Metropolitan Magistrate Snigdha Rani Chakraborty passed the order this afternoon after police produced Mahfuza today with a 10-day remand prayer in the killing case.
Mustafizur Rahman, inspector (investigation) of Rampura Police Station, moved the petition before the court around 1:30pm.
The two Banasree siblings were killed by their own mother out of her "concerns about their future", Rapid Action Battalion (Rab) yesterday claimed citing primary interrogation.
READ MORE: A claim hard to believe
She first strangled her daughter Nusrat and then son Alvi at their apartment in Banasree area of the capital, Rab Media Wing Director Commander Mufti Mahmud Khan told a press briefing at the force's headquarters yesterday.
Nusrat Aman Aroni, 14, and her brother Alvi Aman, 6, were found unconscious at their apartment on Monday afternoon. They were later declared dead in the evening after being taken to Dhaka Medical College Hospital.
The kids' father filed a murder case against Mahfuza last night. The case statement is identical with the Rab version.