Apan Jewellers' owners sued for evading duty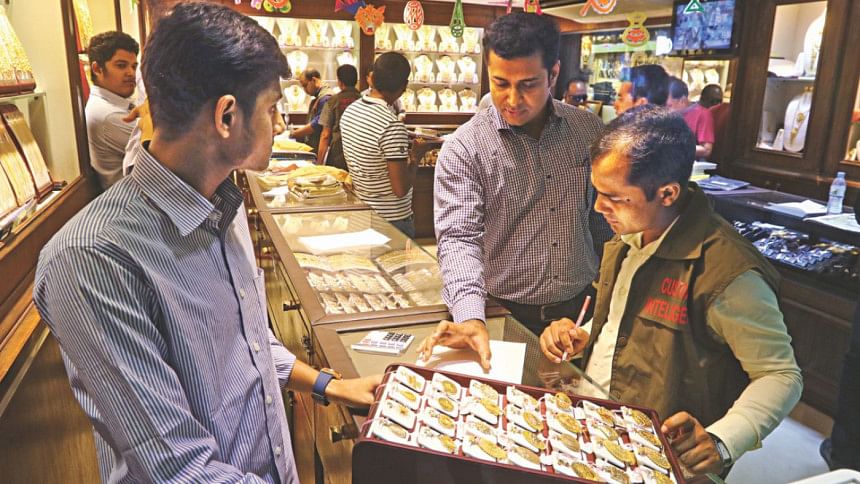 Customs intelligence today filed five separate cases against Apan Jewellers' owners Dildar Ahmed and his brothers Gulzar Ahmed and Azad Ahmed for evading customs duty on 567.54kg of gold.
Dildar, the father of Banani rape case prime accused Ahmed Shafat, was sued in three cases under customs act while Gulzar and Azad each in one case, said Customs Intelligence and Investigation Directorate (CIID) Director General Moinul Khan.
The Commissioner of Customs will adjudicate the cases, he added, saying more criminal cases were being prepared against them in connection with the gold seizure from their five outlets.
On Sunday, CIID officials confiscated the gold and 7,369 pieces of diamond of Apan Jewellers as it failed to show valid documents.
There was no transparency regarding the gold worth about Tk 274.35 crore and diamonds worth around Tk 10 crore, CIID officials said.
CIID also on May 14 and 15 primarily seized 498kg of gold and kept the ornaments at the respective outlets in accordance with the rules, and asked Apan owners to bring the documents to the CIID on May 17. The owners have not been able to produce the documents.
The CIID officials in May went for the crackdown amid allegation by one of the Banani rape victims that the prime accused Ahmed Shafat, son of one of the owners of Apan Jewellers, bragged about being a gold smuggler.
Shafat and the four other accused also boasted about their wealth and said police would not touch them when the two girls warned that they would go to the law enforcers, according to the testimony of one of the two girls.
Invited to Shafat's birthday party on March 28, the two girls went to The Raintree Dhaka around 9:00pm. After the party ended around midnight, Shafat and his friend Nayem Ashraf alias Halim raped them in two rooms, alleged one of the two girls who filed the case.
Shafat, and Nayem confessed to raping the girls while three other accused, Shafat's driver Billal Hossain, bodyguard Rahmat and the victims' friend, Shadman Sakif, admitted their involvement in the incident.