7 more hurt as 'BCL muscle show' continues at Titumir Clg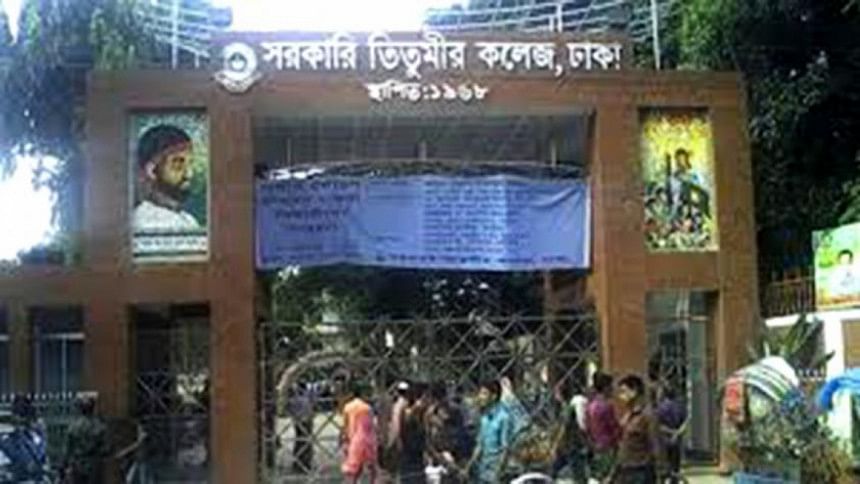 Seven more students were injured at Dhaka's Titumir College as alleged "muscle show" of Bangladesh Chhatra League continues at campus and its halls.
Yesterday, after attack on demonstration against "excessive exam" fees at campus, the ruling party's student front charged on students with rods at residential halls today.
Golam Kibria, third year English student, Abdul Motaleb, second year history student, Aynal, second year management student, Asif, Shah Alam, second year Bangla student, Didar, second year management student and Moheshwar, and third year sociology were injured in the attack. They were taken to Dhaka Medical College Hospital.
Injured Motaleb alleged BCL activists, followers of by the college unit president Kazi Riazul Islam Dollar and general secretary Manik Hossain, attacked rooms of Akkasur Rahman Akhi Hall around 12:45pm with sticks and rods.
Motaleb also said that BCL men only attacked those who are demonstrating against the charge of "excessive fees" for the registration of the honours final year exam of the college.
On the other hand, BCL leader Dollar binned the allegations while talking to The Daily Star. He said his fellows were not involved. He said internal conflict between students of the hall could be the reason behind the violence.
Yesterday, 10 students were hurt in an alleged attack of Chhatra League activists on a human chain arranged to demonstrate against the charging of "excess fees" for registration of honours final year examination.