Tk 2,675cr road turns into truck stand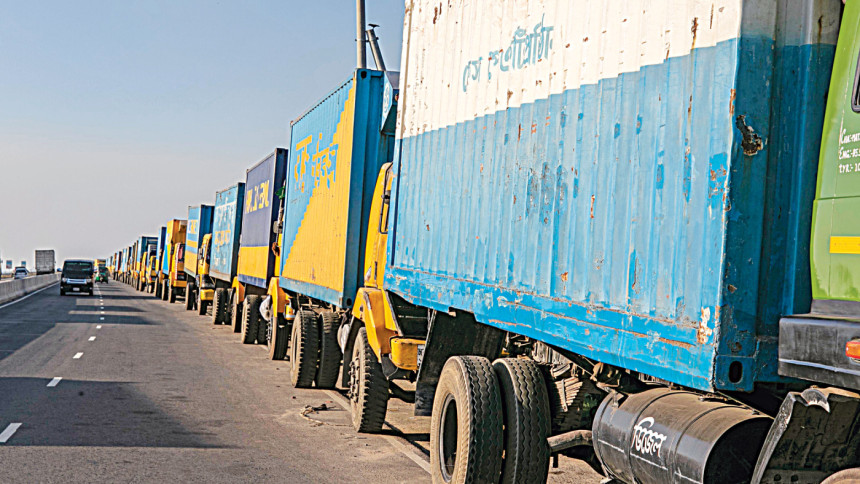 Built at a cost of around Tk 2,675 crore, when the under-construction, 15.2-kilometre Chattogram City Outer Ring Road opened for vehicular movement in 2021, city dwellers and experts believed it would be a blessing for mitigating traffic congestion.
They thought that the road, built along the Bay of Bengal, would offer tourists a chance to take in the beautiful, uncharted vista of the bay on the stretch from Patenga to Foujdarhat area, opening a new horizon for tourism.
But in a tragic turn of events, this very road has become a source of traffic jam and public sufferings, after apparently being turned into a  truck stand.
During a recent visit, this correspondent found that  trucks and covered vans were parked all over the place on a part of the road in Halishahar Chowdhurypara area.
The situation was almost identical in Chowchala, Anandabazar Ghat, Akmal Ali Road, Khejurtala, Patenga Housing Colony, and Patenga sea beach, areas the road goes through.
Faruk Hossain, a truck driver, said, "We are forced to keep vehicles on this road as there isn't any public truck terminal in the port city."
Not only parking, but the road is also regularly used for repairing trucks.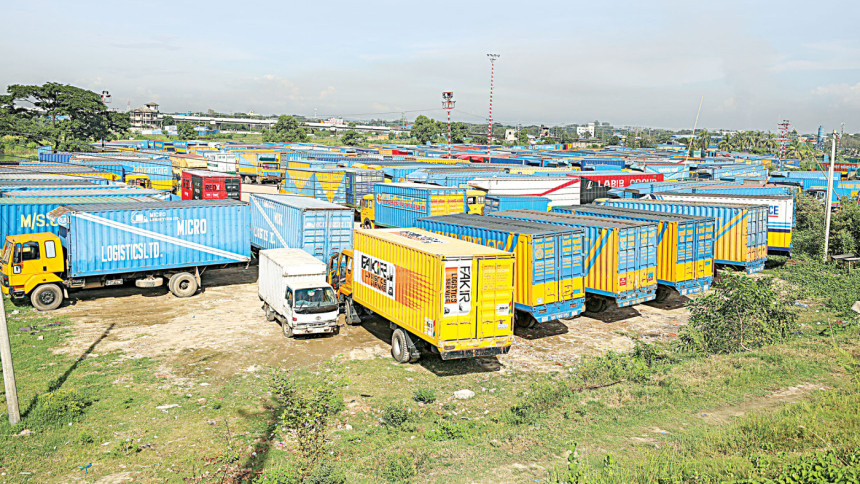 Amzad Hossain, a local resident, said, "We thought the road would change our fate, but instead, it turned into a truck stand."
Subash Barua, a transport expert, said,"The road was built using crores of public money, but it will go to waste if it is overtaken by unlawful parking."
In 2006, Japan Bank for International Cooperation recommended improving coastal trunk-road connectivity to address communication problems and ensure future sustainable connectivity in Chattogram.
As per the recommendation, Chattogram Development Authority (CDA) undertook the Outer Ring Road project.
The Tk 2,675.95-crore project was approved by the Executive Committee of the National Economic Council (Ecnec) in 2013, following which construction works began that very year.
Although the project was expected to be completed in 2019, work on two feeder roads is still pending. Despite this, the road was opened for vehicular movement in 2021.
Kazi Hasan Bin Shams, project director and chief engineer of CDA,  agreed that the road is not benefiting everyone due to the truck stand.
"The  maintenance of a clear roadway for vehicular traffic is the duty of the  traffic department. We have verbally requested the traffic division to take the truck stand off the road," he told The Daily Star.
Tarek  Ahmed, deputy commissioner of Chattogram Metropolitan Police's (CMP)  traffic department, said drivers park their vehicles  illegally in absence of strict monitoring. "We don't generally allow any vehicles to park on the road."