Sale of winter clothes heats up
Shahnaj Akter, a resident of the port city's Muradpur area, found it difficult to browse through warm clothes to pick the best match for her son as Zahur Hawkers' Market was packed with buyers.
She said prices at the market seemed a bit high this season.
"Still, people from middle-income groups like us come here as the market is known as a spot for low-priced, yet quality products," she told this correspondent.
Like Shahnaj, warm clothes buyers are pouring onto the market, as a cold wave has aken over the port city.
Traders at the market said they have various quality products and prices vary depending on that.
Ahmed Newaj, proprietor of Newaj Store, said they are selling jackets ranging from Tk 1,200 to Tk 4,500 and sweaters from Tk 600 to Tk 1,800.
Meanwhile, people from low and middle-income groups were seen rushing to the makeshift shops on the footpaths in different thoroughfares in Chawkbazar, Sholashahar Gate No 2, New Market, Anderkilla and Laldighi areas.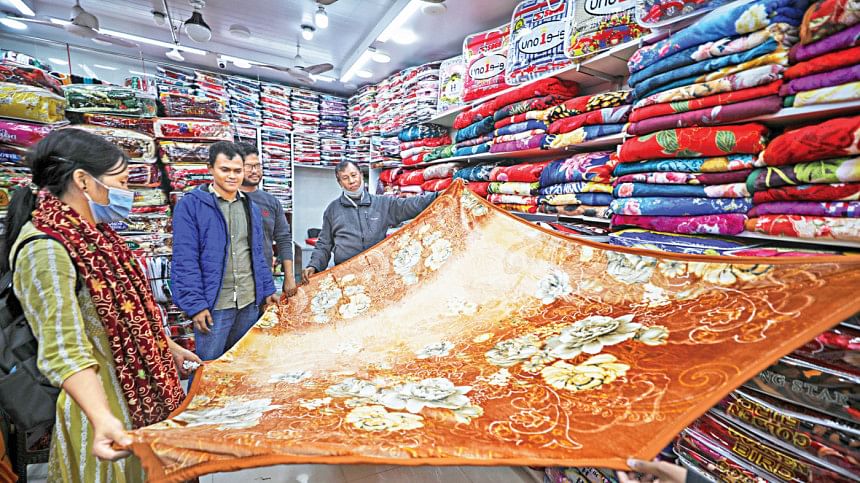 Abdul Kader, a hawker in New Market area, said he invested Tk 1.50 lakh for this winter. "I have bought 15 bundles of warm clothes at Tk 10,000 each," he said, adding that each bundle contains some eight items, including wool cap, scarf, gloves and ear jammer.
Kader said he made a profit of Tk 3,000 after selling each bundle. "I sell a sweater ranging from Tk 200 and Tk 500 based on the quality."
Meanwhile, shopping malls, including Bipani Bitan, Sanmar Ocean City, Mimi Super Market, Afmi Plaza, Aktaruzzaman Centre, Amin Centre, Chittagong Shopping Complex, Reaz Uddin Bazar and Tamakumundi Lane, are also abuzz with people buying winter clothes.