Red Chittagong cattle facing extinction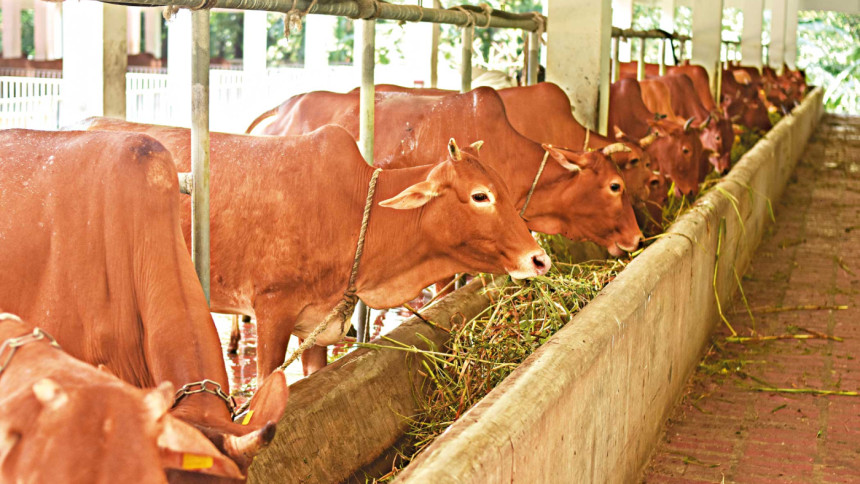 Red Chittagong cattle, a native cattle breed reared predominantly in Chattogram, is facing extinction for many reasons, especially due to hybridisation, according to experts.
Bangladesh Livestock Research Institute (BLRI) officials informed that the cattle will be nearing extinction soon if this trend of hybridisation continues.
Experts say this cattle breed has distinct characteristics than other Bangladeshi cattle.
They said rural farmers prefer this breed over others due to their high conception rate, disease resistance, high milk fat percentage and cost effectiveness.
Manirul Islam, a professor of Animal Science of Chattogram Veterinary and Animal Sciences University, conducted a research recently titled "Performance of Red Chittagong cattle in some selected areas of Chittagong district of Bangladesh."
His research showed that a fully grown cow of this breed weighs 150-200 kg and gives 2-3 liters of milk daily without extra food. It's also able to give birth to one calf per year. The milk's fat content is very high, making it tasteful.
This breed of cattle survives on low quality feed, which is beneficial during feed shortage. Their kind thrives in Bangladeshi climate, finds Manirul's research.
Nazim Haider, president of the Dairy Firm Association of Chattogram, said the number of this cow breed is decreasing day by day. If the government doesn't intervene, this native variety will be lost.
However, BLRI had conducted two projects titled "Red Chittagong Cattle (RCC) Improvement and Conservation Project".
During a recent visit to Hathazari dairy and Chattogram's Red Chittagong cattle breed development farm, which was set up under the "Expansion of RCC artificial insemination and activities and implementation of embryo transfer technology project-phase-3", this correspondent saw that there were 238 RCC cows, which are being nurtured to improve the quality of this variety.
Malay Kanti Modak, deputy director of the Hathazari dairy and RCC breed development farm, told The Daily Star that under this project, 100 RCC bulls will be reared.
Devjyoti Ghosh, information officer of BLRI, said they've already completed two projects for developing the cattle's variety.
"Research is still ongoing. After completion, we'll publish information about the conservation and development of this species," the official added.