Hill razed for ATM booth in CRB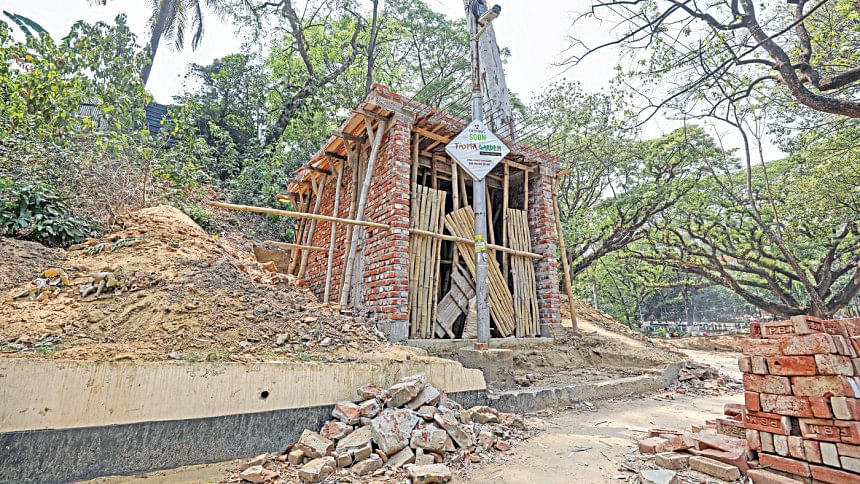 The Sonali Bank authorityies have reportedly cut a hill in the port city's Central Railway Building (CRB) area to build an ATM booth, without any approval from the Department of Environment.
The DoE officials confirmed that no organisation sought their permission to cut hills in CRB area.
During a visit to the area on Saturday, this correspondent found that the hill near the CRB police outpost has been cut to build the 100 square feet ATM booth.
This hill is owned by Bangladesh Railway (BR).
A study conducted by a teacher of Chittagong University's botany department found that around 225 rare plant species are in the CRB area.
Meanwhile, a Detailed Area Plan (DAP) prepared by the Chattogram Development Authority (CDA), which was published in Gazette on January 25, 2009, announced that it is a cultural heritage site.
According to the gazette, no part of CRB can be used for commercial purposes and no high-rise buildings can be constructed there.
However, Sujon Chowdhury, estate officer of the Bangladesh Railway's (BR) east zone, claimed that Sonali Bank was permitted to build the ATM booth after getting permission from the Ministry of Railways.
"Every day, countless city dwellers come to CRB for entertainment. But there was no ATM booth in this area, so we allowed a government bank to set up the booth," he added.
Md Abu Bakkar Siddik, deputy general manager of Sonali Bank and former manager of the bank's CRB branch, said, "After the railways permitted us, we started the construction of the ATM booth. We did not know that we have to take permission from the other authorities, including the Department of Environment. We will apply for their approval soon."
According to Bangladesh Environment Preservation Act 1995 (amended in 2000), cutting a hill without DoE's approval is illegal.
The punishment for breaking the law is up to two years of imprisonment or a Tk 2 lakh fine or both, for first-time offenders. For subsequent offences, the punishment is up to 10 years of imprisonment or a Tk 10 lakh fine or both.
This correspondent could not reach Hillol Biswas and Mia Mahmudul Hoque, director and deputy director of DoE respectively, despite repeated attempts.
Earlier, the railway wanted to build a hospital in CRB under a Public-Private Partnership. However, the railway was forced to shift the hospital project amid continuous protests from the citizens of Chattogram.
According to data from Bangladesh Environment Forum, 120 hills disappeared from the port city in four decades. In 1976, there were 32.37 square km of hills in the port city, which decreased to 14.02 square km in 2008.
The data showed that there were 200 hills in the city 40 years ago, and 60 percent of them have disappeared. Of them, the Chattogram Development Authority cut 15 hills to build the Bayezid Link Road.