A gross misuse of special provision
Permitted by ministry, Sitakunda shipbreakers indulge in mindless sand extraction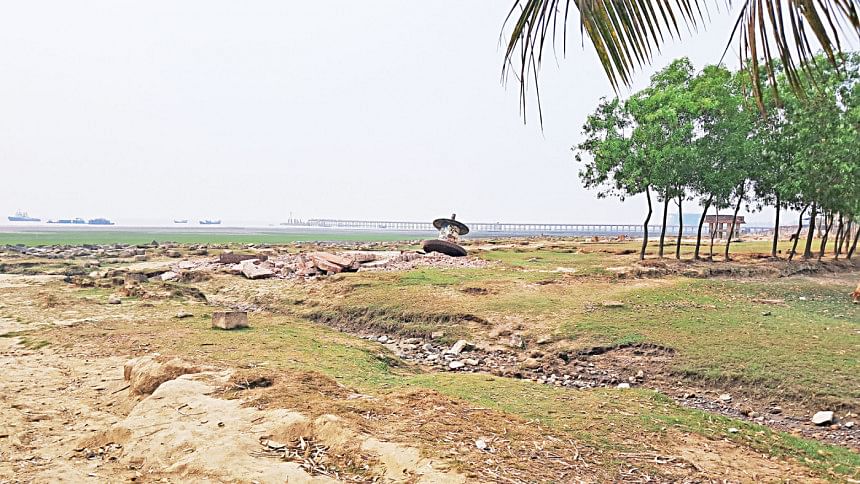 Jahangir Hossain, a local resident of Alakdia village in Chattogram's Sitakunda upazila, used to cultivate various types of crops on half an acre of land adjacent to the coastline. However, his land remains uncultivable for the last five years due to the saline water entering the land.
"I now work as a day labourer in different industries as I have lost my farming land," said Jahangir.
Jahangir, however, is not the only one. Many farmers in Sitakunda lost their land, thanks to the mindless extraction of sand from the Sandwip Channel of the Bay of Bengal by some shipbreakers and influential locals. This has resulted in the destruction of embankments and coastal forests, enabling saline water to enter the cultivable pieces of land from the sea.
During a recent visit to Alakdia village, this correspondent found that a large portion of an adjacent dyke has broken down, making way for saline water to enter the area.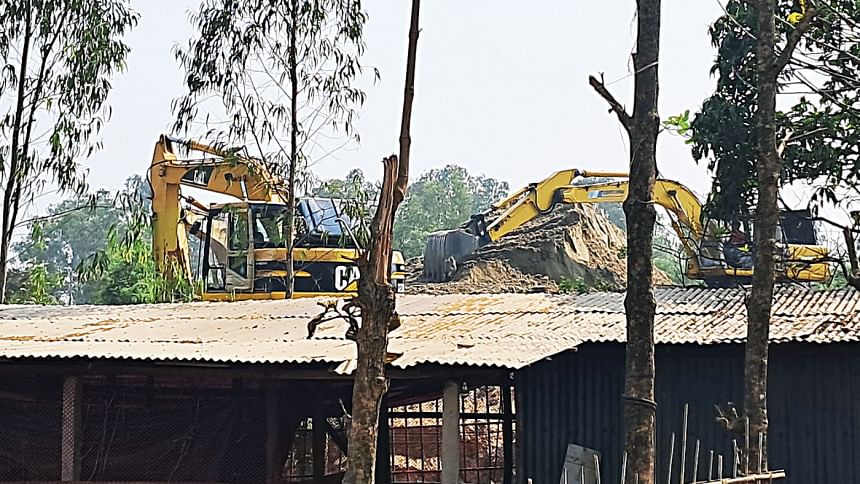 According to locals, dyke and coastal forests protect Sitakunda from natural calamities. But now, vast areas of farmland, households and properties are at risk.
Although many people have applied for permission, we have not allowed anyone to extract sand from this channel. We are taking legal action if someone extracts sand illegally from there.
Moreover, some shipbreakers are lifting sand from the Bay of Bengal in Sitakunda, increasing the risk of coastline erosion. This has been made possible as the Ministry of Industry has given permission to shipbreakers to lift sand from in front of their yards to facilitate the anchoring and navigability of ships.
However, the authorities of some ship-recycling yards have been misusing this special provision with their mindless extraction of sand, said Ashraful Alam, executive magistrate and assistant commissioner (land) of Sitakunda.
He also claimed that shipbreakers are lifting sand from the sea and selling it to local buyers.
Abul Kashem, owner of Mother Steel Limited, who has recently been fined for illegal mining of sand, said, "We dredged up the sand because the foreshore in front of our recycling yard has been raised. Sand lifting is beneficial to restore seaworthiness in the channel. But the administration fined me. I will appeal against this order to the proper authority."
A team from the Department of Environment (DoE) has recently submitted an enquiry report, stating that three lakh cubic feet of sand has been excavated from the Sitakunda coast.
According to the Sand Fields and Soil Management Act, 2010, no one can extract sand from the sea, rivers or any place unless the deputy commissioner declares the place as "Balu Mahal" (sand field).
Besides, lifting sand from open spaces and waterbodies for commercial purposes without permission from the relevant authorities is a punishable offence under the act.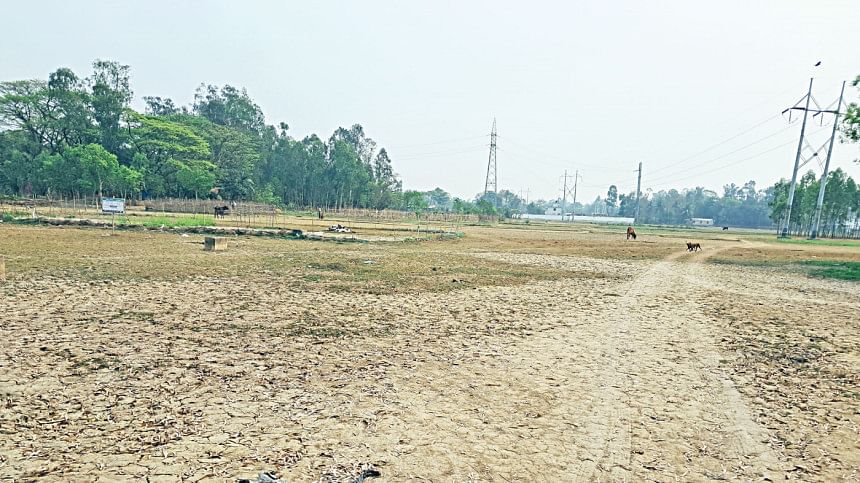 According to the Chattogram District Administration, Sandwip Channel has not been declared as a "Balu Mahal" yet.
Chattogram DC Abul Bashar Mohammed Fakhruzzaman said, "Although many people have applied for permission, we have not allowed anyone to extract sand from this channel. We are taking legal action if someone extracts sand illegally from there.
Meanwhile, more than two kilometres of embankments have already collapsed due to uncontrolled sand mining, while more embankments are at risk of collapsing, said an official of the Bangladesh Water Development Board (BWDB), requesting anonymity.
Due to the destruction of a large portion of mangrove forest resulting from the sand extraction, hundreds of wildlife species are at risk of being displaced from the area.
Kamal Uddin, ranger of Sitakunda Coastal Forest Department, said thousands of trees in the Sitakunda coastal forest are in danger due to the uncontrolled sand extraction.
"Hundreds of trees have already fallen. Scores of wild animals, including deer, have been displaced," he added.
Due to sand mining, the biodiversity and breeding sites of the area will be destroyed, said Dr Mohammad Muslem Uddin, associate professor of oceanography at Chittagong University.
"Many species will be displaced. Fishers will suffer financially as sand mining will result in a reduction of marine resources," he added.
Meanwhile, the Sitakunda upazila administration and the DoE have fined the authorities of three shipbreaking yards -- OWW Shipbreaking Yard, SL Steel Shipbreaking Yard and Mother Steel Limited -- for lifting sand from the channel illegally.
"The Sand Fields Management Act is implemented by the Ministry of Land and its affiliates. We can only levy environmental compensation due to sand mining against the accused under the Environment Protection Act, so there is very little scope for us to take stricter action," said Ferdous Anwar, deputy director of the DoE's Chattogram office.
"We have already fined three companies Tk 2,50,000 after our team visited different areas in Sitakunda and assessed environmental damage," he added.
AC (land) Ashraful Alam of Sitakunda said, "We have conducted 10 mobile courts in the last two years to stop sand mining and we are also patrolling the deep sea to control sand dredgers."
On behalf of Bangladesh Environmental Lawyers Association (Bela), S Hasanul Banna on January 17 last year served a notice on 14 government organisations to take measures against sand lifters in Sitakunda upazila.
According to data, the Ministry of Industries had approved 186 shipbreaking yards in Sitakunda. However, several yards have been closed due to various complications, including the aftermath of the Covid-19 pandemic and bank loans.
Currently, there are around 20-25 shipbreaking yards in operation in Sitakunda.