Grabbers feast on railway hills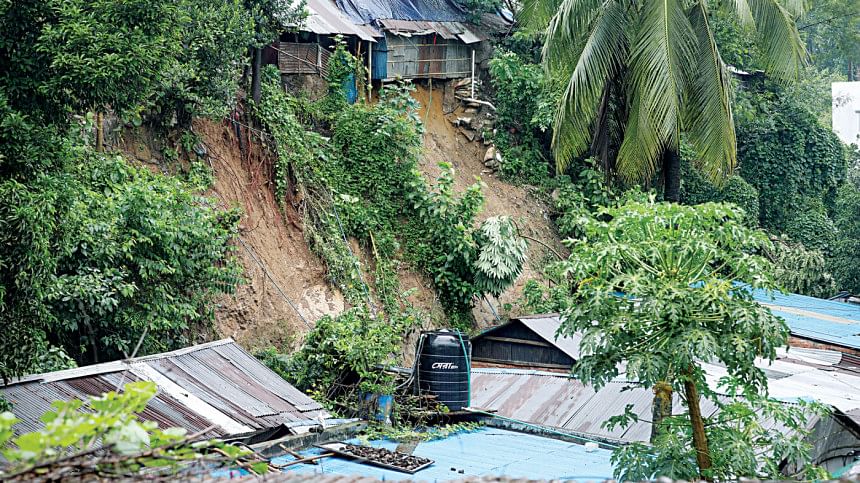 5,500 people residing on 9 hills
Landslide killed over 400 in 17 years
Port city lost over 120 hills in 40 years
Over 3,000 illegal structures have been constructed on nine hills owned by Bangladesh Railway in various parts of the port city, violating the law and endangering the hills.
According to data from BR estate department, over 5,500 people currently reside on these state-owned hills, which are being subjected to indiscriminate hill razing and tree felling.
Recently, BR suspended one of its employees, Abdul Khalek, for his involvement in constructing illegal structures on Soloshohor hill.
"We've removed more than 1,700 illegal structures from these hills in the past two years, but no action has been able to deter grabbers, as people returned to the hills after the evacuation," said Sujan Chowdhury, estate officer (east) of BR.
BR made a list in 2022 and found that most of the illegal structures are built on its hills at Foy's Lake area in Chattogram's Akbarshah area.
The Daily Star obtained a copy of that list.
During a recent visit to a Soloshohor hill, it was noticed that people are residing in homes constructed on the hill's slope, even though a landslide on August 27 claimed the lives of two individuals, including a child, at this very place.
Sharifa, who lost her husband in that landslide, said, "Where else will I go? Anywhere else is too costly. Poverty forced us to live here."
Nur Jahan, a 60-year-old, is still crying for her two sons, Mohammad Liton and Mohammad Ripon, who died in a landslide in Akbarshah area last year.
"We had no choice but to reside on a hillock due to our inability to afford the rent for high-rise buildings," she said.
According to both locals and BR officials, a number of syndicates led by local influential people and BR staff members constructed these buildings and leased them to low-income people.
Recently, BR suspended one of its employees, Abdul Khalek, for his involvement in constructing illegal structures on Soloshohor hill.
Moreover, over 100 structures, predominantly erected by a politically influential figure named Mohammed Tareq, who was identified by BR as a key hill grabber, were removed.
However, Tareq denied all allegations of land grabbing against him. "My opposition group is spreading propaganda by calling me an encroacher," he added.
A study conducted by geography and environmental department of Chittagong University showed, landslides claimed the lives of more than 400 people, primarily in informal settlements in the port city between 2000 and 2017.
The study noted that the port city has lost over 120 hills in the past four decades.
Construction of structures and cutting of hills without Environmental Impact Assessment clearance from Department of Environment are illegal under the Bangladesh Environment Act.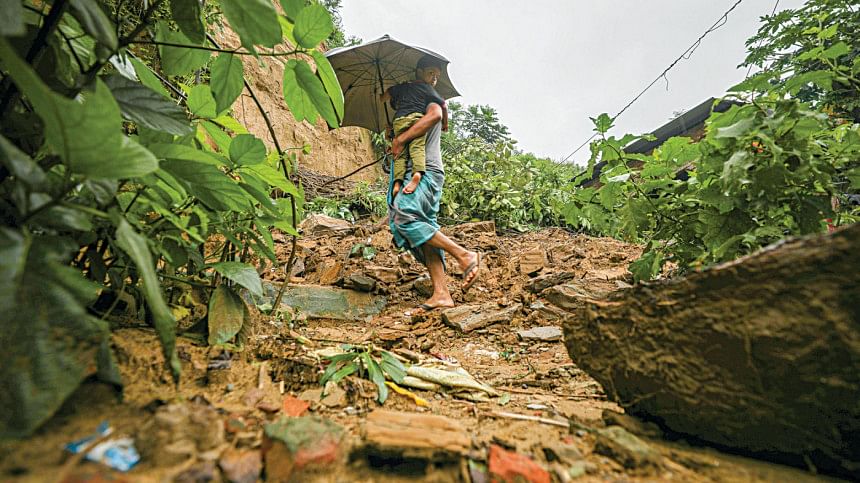 Between 2003-22, the DoE filed 83 cases against AL leaders, councillors, and businesses for cutting hills on different occasions.
But most of them go back to razing hills even after being accused of multiple cases, alleged locals.
Without rehabilitating the people living in unsafe slums in the hilly areas, the hills cannot be kept free of encroachment, said Mohammad Kamal Hossain, former professor of Institute of Forestry and Environmental Science at Chittagong University.
"The unrestricted hill cutting is endangering ecological balance," he added.
BR official Sujan Chowdhury, however, claimed that they have already requested the district administration to make arrangements for the rehabilitation of hill dwellers.