Billboard removed from Ayub Bachchu's Rupali Guitar sculpture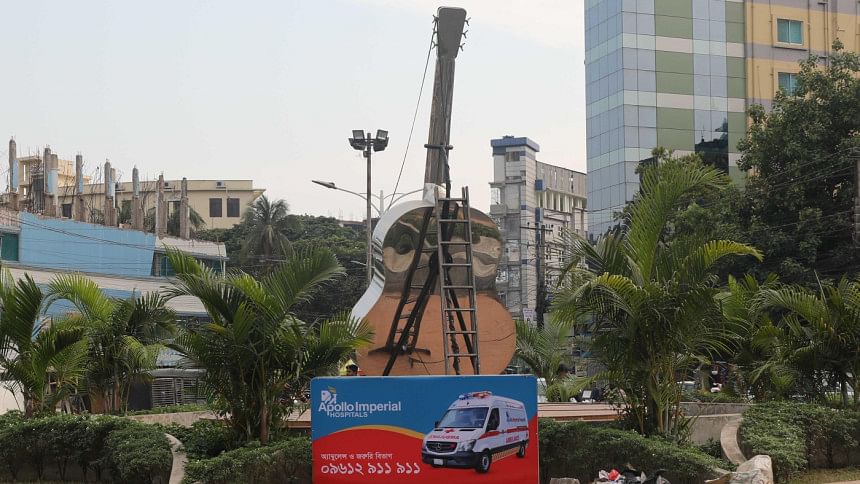 After much criticism, authorities of Chattogram City Corporation (CCC) have removed a billboard from the Rupali Guitar sculpture premises at Prabartak Mor in the port city.
The sculpture was installed in remembrance of the late musician Ayub Bachchu.
Touhidul Islam, chief executive officer of the CCC, told The Daily Star that a company, which was approved by CCC for beautifying the city and installing billboards, put up a billboard in front of the sculpture drawing criticism from netizens.
The billboard was removed this afternoon, reports our Chattogram staff correspondent quoting the official.
Earlier, the photo of the billboard in front of the Rupali Guitar went viral on social media.
The Chattogram City Corporation inaugurated the Rupali Guitar sculpture at Prabartak intersection in the city, where Bachchu was born and brought up, after a year of his death on September 18, 2019.
Bachchu passed away on October 18, 2018.
The 18-ft-tall sculpture is made of stainless steel. The whole project cost Tk 3 crore, said CCC sources.
The then local CCC councilor (Ward-15) Gias Uddin took the initiative to build the sculpture. The then CCC mayor AJM Nasir Uddin inaugurated it.