Chasing Perfection: 1998 Toyota Chaser JZX100
Source: Rahin Sadman Islam
This is it. This Chaser, the man behind it's wheel, the engine under the hood. Those smooth, handsome lines. This is the reason I absolutely love what I do, sacrificing weekends, sleep, and social life. Project cars like these are few and far between, an orchestra of just the right parts and platform coming together to yield something that is damn near perfect.

They say it's love when your heart skips a beat and comes back on with punches that threaten to tear your ribcage apart. Faced with Tanweer Zaman's E-P-I-C Chaser, the scrambling of emotions and the difficulty you face in pinpointing exactly what the car has that makes your pants tighter is a feeling you really have to experience to believe.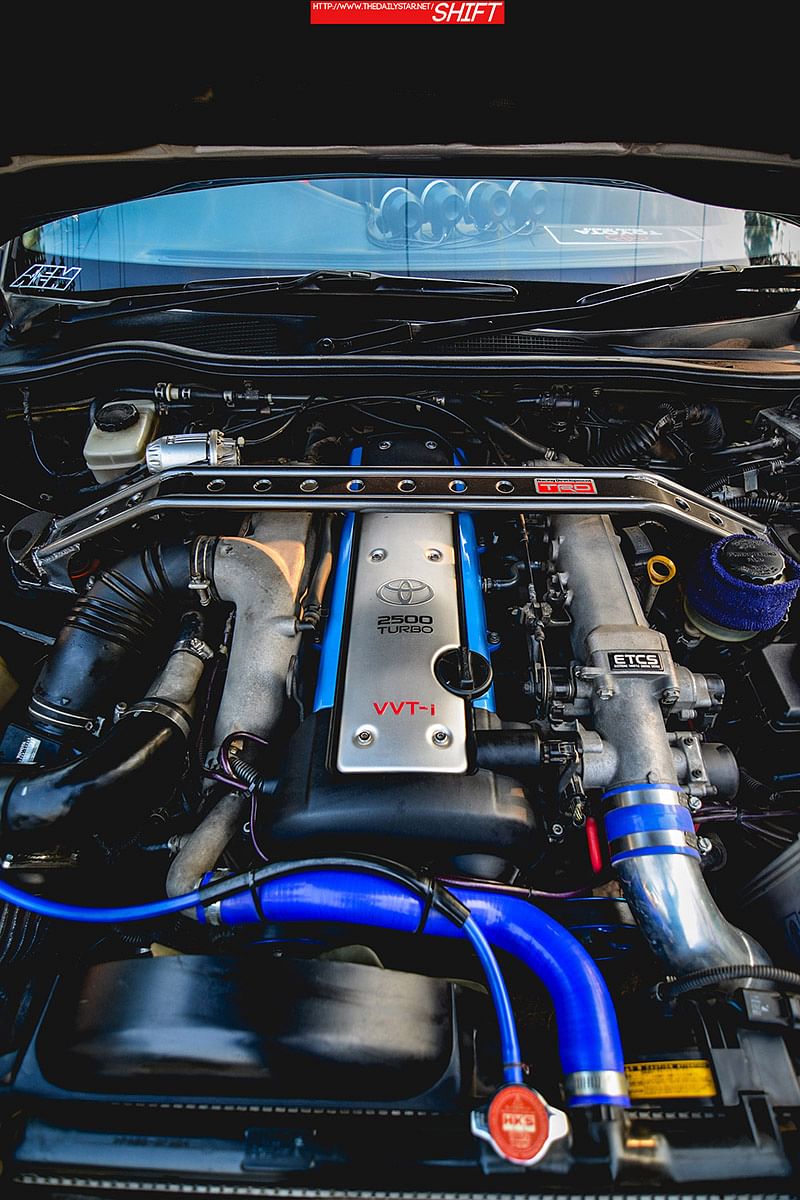 Source: Rahin Sadman Islam
Understatement, restraint, and a thesaurus of synonymous adjectives can be flung upon the Chaser, and it will brush it aside with the elegance of a veteran Audrey Hepburn-esque hearthrob not giving a second thought to the adoration of her fans. This is a brown car. Its not an exact brown, it's a fusion of bronze, silver, sandy brown, beige, champagne, and under different lighting, the near-alcoholic mix of colours give off the impression of a chameleon soul.

It really does have a split personality.

On the outside, the subtle wheel arches, wide 18 inch wheels, TRD front splitter and custom boot lip spoiler all add up to a simplicity and elegance which is hard to find in today's stance and "loud" body mods crazed world. Sometimes, beauty needs simplicity and elegance over brash in-your-face attitude; think Viki Dougan instead of the internet-breaking Kim Kardashian.

 
Source: Rahin Sadman Islam
Under the hood sits the first 1-JZGTE swap into a Chaser ever done in the country. 2500 cc, VVT-i, single turbo. The Supra-sourced in-line six cylinder unit has been nurtured and caressed with the best quality parts to produce 320 of the finest quality horsepower. It is impossible to imagine how a car of this size and weight can build speed that quickly, with an automatic gearbox, nonetheless. The only hints at the mental beast hiding underneath the subdued exterior are the intercooler peeking out the front bumper and the muted-but-throaty Blitz exhaust out back.

On the ride along, when the Chaser was floored on an empty stretch of road, there was a slight wiggling of the tail as the rear-wheel drive beaut gathered traction, then it set off for the immediate horizon with a pop and whoosh of turbo whistle. "It makes some interesting noises when you drive it right", says a smiling Tanweer. The power doesn't overwhelm the senses, it just surges on and on, all you have to do is turn on the tap and keep the revs in the sweet range. It's how the Japanese build their muscle cars.

 
Source: Rahin Sadman Islam
Inside, it's the cleanest car from the 90's that you can find today. Find one scratch, one smudge, one speck of dust and I will print out ten copies of my article, cut them up into tiny 2x2 squares, and eat them for breakfast. Look at the hyper-rare 320 km/h TRD gauges, original TRD steering wheel, the red stitched black leather seats, Sparco gear knob, and the extra set of gauges sitting three abreast on the dashboard, and you get the idea that this car has been built with a meticulous attention to detail.

Some say tuner cars are hot, messy, fiddly and uncomfortable to ride and drive everyday. The Chaser silences the critics, blasting out air-conditioning all over the extremely comfortable, leather and swede-clad interior. Sit in the back, and stretch your legs over the vast expanse between you and the front seat, and lounge in the comfort of a car that is as luxurious as it is fast.

 
Source: Rahin Sadman Islam
Tanweer Zaman has a philosophy to building up each car he lays his hands on. With each progression, however, he tries to inject something new, something more. What results are cars which look and feel wildly different from one another, but cars which are all built with strict respect for the core philosophy: completeness. Every single part comes together to work perfectly. Everything.

He drives the Chaser daily. "The K-sport coilovers make it difficult to navigate over Dhaka streets, but if you are a bit careful, it is very surprising how useable this car is on a daily basis. It is difficult to find traction for the rear wheels on dirt, sand, mud or rain soaked tarmac, however. Having a grippy set of tires is quite necessary", says Tanweer.

 
Source: Rahin Sadman Islam
Why did he go for the Chaser instead of a newer car? Tanweer is a big fan of older cars: "I see a huge amount of character in older Japanese cars. Whatever inspired the Japanese to make these mind blowing cars back in the day, it worked, because they put out some truly amazing cars. I literally have to fight with my family to keep going for older, more interesting cars instead of going to the showroom and picking out a new model." It is a sentiment I am all too familiar with, and an opinion that will be echoed by many people in the Bangladeshi automotive scene.

Remember that person you used to have a crush on in high school, the one which will always pull your heartstrings, but that person who, in a cruel twist of fate, was always hitched to someone else? If luck ever shone on you and you got your chance, would you take it or let it pass? Tanweer has a new machine to build up (it's Japanese nickname starts with an H and ends with a U, if you can guess it, I think you'll be as excited as we are at Shift). Keep an eye on our Facebook page for updates.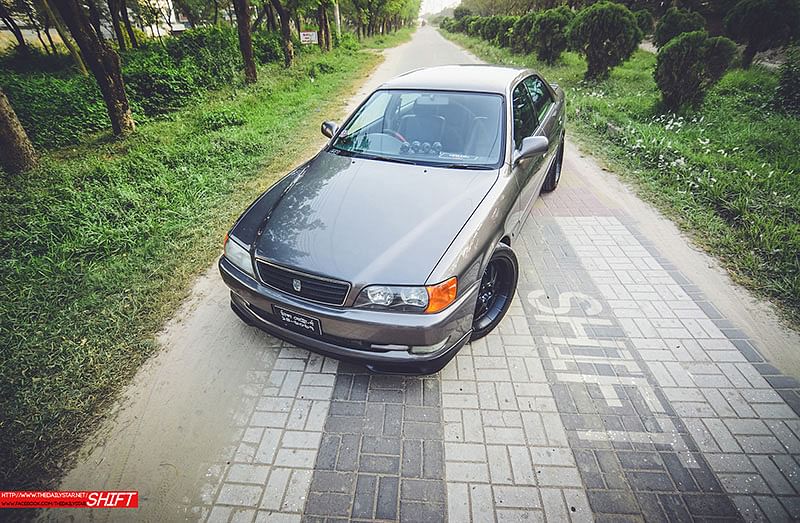 Source: Source: Rahin Sadman Islam
______________________________________________________________________________
Specs
1998 JZX100 Toyota Chaser


Engine: 1JZGTE - single turbo (producing 300+hp); Zage CT15B turbo (billet compressor wheel); Apexi cone air filter; Blitz front mount intercooler; HKS actuator; HKS SSQV IV blow off valve; HKS radiator cap; HKS ground wiring kit; KTS lightweight pulleys; NGK BKR6 spark plugs; Super Spark performance ignition coils; Toyota Supra starter motor; SARD silicone hoses; Samco radiator hose; Works oil pressure sensor; Walbro 255 fuel pump; TRD thermostat.
Exhaust: Blitz Nur-Spec RX exhaust; Blitz Nur-Spec RX downpipe.
Suspension and rigidity: K-Sport street coilovers; KTS front sway bar; 21mm OEM rear sway bar (stock: 17mm); TRD front strut bar.
Wheels and tyres: Crimson Inc. Linea Sports 18 inch wheels; Bridgestone Potenza RE11 tires (front), Bridgestone Potenza RE050 tires (rear).
Brakes: APP Brake Lines; APP Front Brake Pads, 4-wheel disc brakes.
Interior and gauges: TRD steering wheel;Razo pedals; TRD 320km/hoptical dash meter; Pivot digital speedo meter; Greddy turbo timer; GreddyProfecOled boost controller; AEM air-fuel ratio gauge; Shadow water temperature gauge; Shadow oil temperature gauge; Shadow oil pressure gauge; Shadow boost gauge.
Fluids: Motul brake oil; Motul differential oil.
You might also like: