The Daily Star honours: Soinuddin Miah, the man who paved a path for many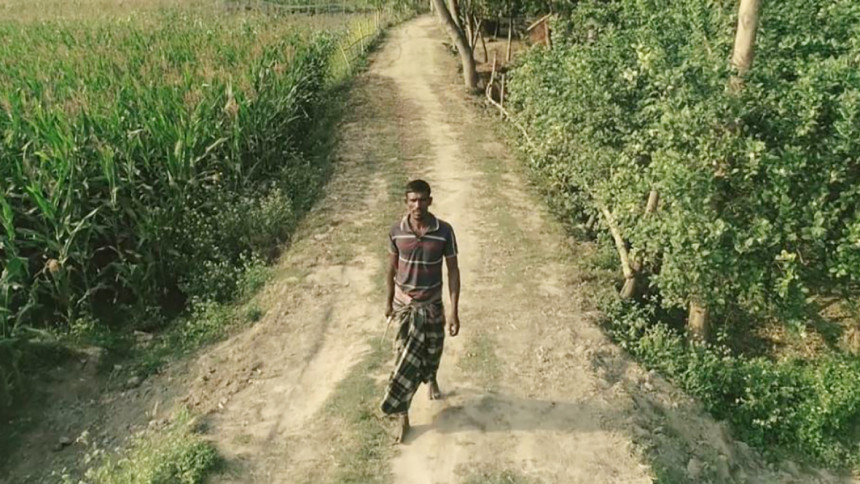 It all began with a simple thought.
There was no road in the village, but the villagers needed one to go to the nearest market. No initiative, however, was taken by the local administration.
And hence, Mohammad Soinuddin Miah, a farmer of Chakgadadhar village under Dhuburia union in Tangail's Nagarpur upazila, took it upon himself to build one.
Soinuddin Miah made a difference, putting in superhuman labour for four years to construct a 1.5-kilometre long earthen road with the intention of ending the sufferings of his fellow villagers.
Now, he hopes to see the road turn into to a concrete one.
Chakgadadhar is one of the most underprivileged villages under the upazila and was virtually cut off from the mainland due to the absence of a road link.
The villagers would use a 1.5km narrow ridge (or ail, which separates two plots of land) from the edge of Soinuddin's house to a concrete road to go to the local market for trading. It was also the only passage for their children to school.
But during monsoon that passage would go under waist-deep water causing immense suffering. With no easy alternative route, the villagers had to take a boat or wade through water to go about their business.
"Sometimes, I had to take my daughter on my shoulder to get her to school," Soinuddin recalled.
The village had been overlooked for years in the absence of educated and powerful people who could influence the local administration, he said, adding that it would have taken only a few months for the union parishad to build the road.
"Seeing no ray of hope from anywhere, I had been thinking for the last seven-eight years of constructing the road by myself and finally started work four years ago, taking earth from my own land and spending my own money," said the 45-year-old farmer. 
"The villagers also helped me for it by giving from their land," he said.
However, it was not easy to build a road single-handedly. It took Soinuddin sheer willpower, hard labour, and four years of perseverance.
With no financial muscle, he relied on a pair of hands to turn the low-laying narrow ridge (ail) into a five to seven feet wide and three to four feet high road.
"After I made the road, the local union parishad provided some support by employing some labourers to elevate the road a little bit. But it is not enough. The earthen road may get washed away during the monsoon."
"However, the road has already got a shape and light vehicles like easy bikes, cars, microbuses can tread on it. So, the concerned authorities can easily turn it to a concrete road if they want, and that would make my effort a success," Soinuddin said.   
"I have done as far as I can but I still worry about the road. I will sleep well if I saw it turned to a concrete road," he said.
"We have reached out to the local government officials as well as public representatives in this regard but got no response so far," Soinuddin added. 
"He used to give labour in his crop field all day and then worked alone till midnight to construct the road," Soinuddin's wife Lucky Begum said.  
Later, he engaged his own brothers in the work, before hiring some labourers to speed up the construction, she said.
"What has he not done to construct the road? He sold our stored food grains over the years. He turned his cropland to a pond for taking earth to build the road. He moved from door to door in the village, begging the neighbours to give some of their lands for the road construction," Lucky said.
"My husband has done almost everything that he could. Now the government should come forward and turn it to a concrete road," she added.  
"Farmer Soinuddin has done a unique work and we are proud of him," said Motiar Rahman, chairman of Dhuburia Union Parishad.
"Although it was too late to act, we from the union parishad had provided some support to the works by employing some labourers.
"I shall talk to local lawmaker for taking necessary steps to improve the earthen road to a concrete one," he added.