Check out these 5 image editing apps right in your browser
Even with a crowd of dedicated apps to choose from, editing images can be a hassle. However, you don't always need a dedicated software to make your images look fantastic. All you need is a web browser to start glittering them up.
Your browser lets you access a whole host of fantastic applications from Google Docs to Slack, from Spotify to WhatsApp. Image editors are another range of categories that you can have a go with. You will be able to polish your images with these five fantastic in-browser apps: no downloading or installation required.
Adobe Photoshop
Photoshop has always been one of the most popular editing software. The online version of Photoshop seamlessly syncs with Adobe's cloud storage locker, letting you work on your files from anywhere with an active internet connection. Photoshop on the web is now available in beta form for Creative Cloud users.
Though Adobe does not have full free access to the app, you can have a free 7-day trial and then prolong the paid subscription from Creative Clouds. Along with classic tools like crop, select, spot heading, fill, eraser, text; the platform supports layers, enabling you to work on complex PSD files. But as this isn't the fully-fledged version of Photoshop, it does lack some functionalities.
Still, the app works great for collaborating on images with a team, with options for multiple users to leave comments. So, great for some fun teamwork!
Pixlr E
Pixlr E is a streamlined basic graphic design tool for those unwilling to deep dive into edits. It has been giving Photoshop fans a similar experience in a web browser. This app can be used for free, or you can pay $5 a month to get rid of the ads and access more fun features to experiment on your photos (AI, stickers, overlays, and a bigger selection of tools).
Looking into the free version, you might find the interface similar to Photoshop. You get a stash of tools and features to play around with, including heal, dodge, blur, and clone tools, bokeh and liquify effects, and many more. The list gets richer and more filling for advanced users.
Canva
Most are familiar with Canva as a graphic design app for creating resumes and making posters. However, there is also a touch-up app version fit for your holiday shots. This also offers a generous selection of photo editing tools.
Canva is a very user-friendly and intuitive app to lessen your hassles. Adjusting settings and applying enhancements is straightforward like a desktop app. It also comes with a collection of Instagram-like filters that can dazzle up your photos with one click. You get a host of features for free, but a $13 subscription will get you a lot more templates and stock images.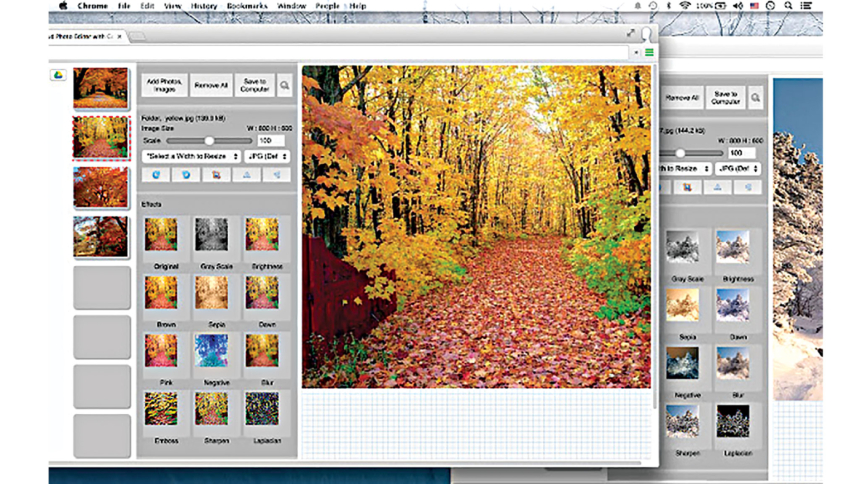 Photopea
Photopea is more advanced and sophisticated than most other similar apps. But in terms of photo editing, those looking for maximum features will benefit a lot from Photopea. A lot of its features are free, with a premium subscription costing $9 and giving access to more features.
Photopea can produce fantastic results with its ability to correct intricate blemishes, automatically apply fixes to contrast, color, and tone to get the photos to look better with minimum effort. With tools like the magic wand or filters like the oil paint effect, Photopea has you covered in making good edits right in your browser.
Google Photos
Sticking mostly with the basics- Google Photos is what editors use for minimal edits. By keeping everything simple, Google Photos is very straightforward to use, and of course, it is completely free!
Google Photos lets you instantly apply and adjust the strengths of a range of filters, with an auto-fix filter that lets the AI suggest changes it thinks will give the best results. It is worth mentioning that the AI search capabilities of Google Photos help find pictures of anything, from people to sunsets, in a blink. It sorts your stack of photos in a very organized way for you to find them faster.