iPhone 6 vs Samsung Galaxy S6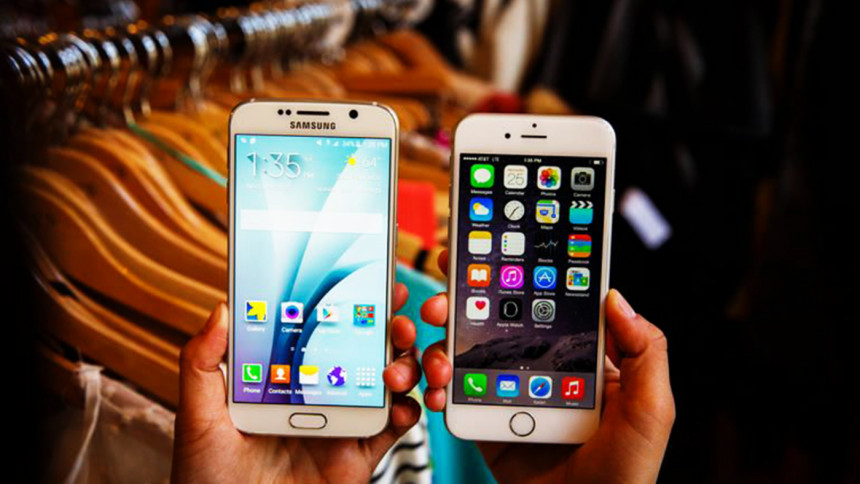 Apple and Samsung's flagship phones, the iPhone 6 and Galaxy S6, are sure to dominate the smartphone world this year. Both phones are remarkably similar, in design, features and cost, but there are some telltale differences, reports Cnet.com.
If you're looking to switch phones this year and have your sites on either the iPhone or Galaxy S6, we've built a handy guide of what each phone has that the other doesn't, and what both have in common.
WHAT THE GALAXY S6 HAS THAT THE IPHONE 6 DOESN'T
Wireless charging and quick charging: Like many other top Android phones, the Galaxy S6 supports wireless charging with a separate wireless charger, which you can find in many stores today. You simply place the phone on a wireless charging pad to add juice without fumbling with wires. Additionally, the S6 promises to charge quickly, so you're not waiting around for enough battery to go about your day.
Built-in heart-rate monitor: The S6's LED flash doubles as a heart-rate monitor that can also measure your blood oxygen saturation. You can use it to test your resting heart rate, or while exercising to see how hard you're pushing. Our real-world tests show that these kinds of heart-rate monitors aren't the most accurate, but it's nice to have the option. The iPhone 6 can measure your heart rate through the LED flash, but you'll need a third-party app to do it.
Bigger, higher resolution screen: The Galaxy S6 benefits from a large, supersharp screen that looks impressive in person and has a higher resolution than the iPhone 6. Samsung's latest has a 5.1-inch AMOLED 2,560x1,440-pixel resolution (577 ppi) screen. In contrast, the iPhone 6 has a 4.7-inch 1,344x750 IPS (326 ppi) display. If you want a five-plus-inch screen, you'll need to look at the iPhone 6 Plus, which costs an average $100 more than the iPhone 6.
A dedicated VR accessory: Looking at future tech, Samsung's got a leg up over Apple with both smartwatches and virtual reality. The Samsung Gear VR headset pairs with the Galaxy S6 to create an immersive video-watching and game-playing experience. VR might still be a bit ahead of its time, but if you're into it, you'll be able to use it with the S6.
WHAT THE IPHONE 6 HAS THAT THE GALAXY S6 DOESN'T
Simple sharing between iPhone, iPad and Mac: If you have other Apple devices, like an iPad and MacBook, you can very easily share photos, videos and links from Safari between devices, thanks to AirDrop in iOS 8 and Mac OS Yosemite. Furthermore, thanks to a feature called Handoff, you can answer calls from your iPhone on a Mac. This seamless, built-in ecosystem is unique to Apple products, so if you already use a Mac or iPad and you want all of your devices to communicate with each other, consider getting an iPhone.
You can replicate these features with an Android phone and a PC, but you'll need third-party apps. Also, Samsung has a feature called AllShare Play, where you can play video on a eligible smart TV and access files from your PC, but it offers a different experience than AirDrop and Handoff.
More new apps: It's no secret that more often than not, iOS gets new apps first. That's because it's easier to develop an app for a few phone models running iOS, than the thousands of models running many different versions of Android. Most apps eventually make their way to Android, but some never do, so if having the latest apps is important, the iPhone 6 is a better bet.
Additionally, the Apple App Store has fewer spam apps than Google Play, thanks to stricter publishing requirements. Android has historically had a malware problem that stems from malicious apps, and you don't necessarily need to worry about that on iOS.
A huge ecosystem of compatible cases and accessories: If you want your phone to have a case or compatible speakers, headphones and other extras, the iPhone is still your best bet. The iPhone's widespread popularity in the US means that case makers and other accessory manufacturers are quick to make products for it.
Top-tier Android phones (like Samsung's Galaxy line) are beginning to get more attention, especially from case makers, but the iPhone is still getting more products designed specifically for it.