Bangladesh's first B2B online platform launches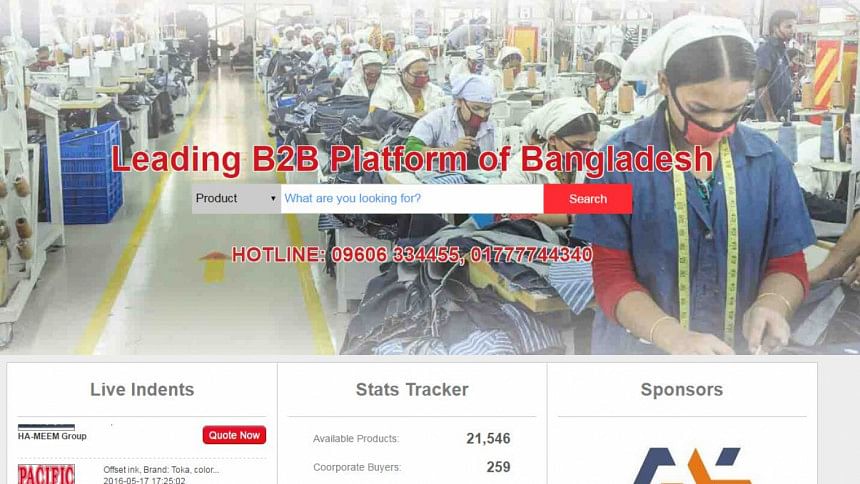 The country's first business to business (B2B) platform 'Pricekoto.com' began its operation.
The parent company Ezzy Group will guide the new business service in its operation.
Pricekoto makes the online trading simpler for both buyers and seller as a complete end-to-end business market place, said a press release.

The website Pricekoto.com remains live 24 hours for both trading and sourcing.
Pricekoto facilitates buyers with the ability to post, RFP or RFQ in just a couple of minutes and soon after publishing the request, they can review bids from matched sellers.
Pricekoto's CEO Salman Ali said, "We are extremely inspired by the present Government's initiatives to digitise all the working process across sectors and we felt this is the right time to launch a truly international standard buyer-seller online trading platform, Pricekoto.com"
"Through this platform, we will not only bring in momentum to the business community but also encourage entrepreneurship and new business generation which will contribute to the growth in business and enhance the country's financial economy aspirations," he added.
This site also provides a way to analyse the received quotations and results offered with a few different options for review. This helps buyer compare prices, terms & conditions, product specifications, delivery terms etc. line by line.
The corporate buyers who have already enrolled with Pricekoto.com include Marico, Transcom, Ha-Meem Group, Berger Paints, BSRM, Anwara Group, Rupayan Group, Dynasty Group and others.
The product categories include Apparels & Textiles, Hardware & Tools, agriculture, machinery, automobiles, electrical equipment, energy and power sector, electronics, office supplies, gifts, furniture, metallurgy, rubber and plastics, bags & shoes and accessories.
Pricekoto.com also facilitates sellers with a wider range of customer base, an easy direct offer submission opportunity to the target clients, branding products; avoid middlemen dependence and hassles to connect to the client.
Importantly, Pricekoto creates the opportunity for a seller to connect to multiple clients across multiple product and service categories.
EZZY GROUP works in diverse industries including Automation, intelligence solutions, IT services, Oil & Gas sector and manufacturing.