Bangladesh up 7 notches in competency
The country ranked 99th out of 137 countries in the year 2017-18, up from its 106th position a year ago, thanks to the improvement of economic performance, the report said.
"We have been talking about the potential of Bangladesh to achieve double-digit ranking. And for the first time, Bangladesh has entered the club of top 100 countries," said Khondaker Golam Moazzem, research director of Centre for Policy Dialogue (CPD).
He unveiled the Global Competitiveness Report (GCR) 2017-2018 prepared by World Economic Forum (WEF).
CPD, as a partner of WEF, launched the latest GCR in Bangladesh at a press briefing at CIRDAP auditorium. The independent think tank has been carrying out the Bangladesh part of the report since 2001.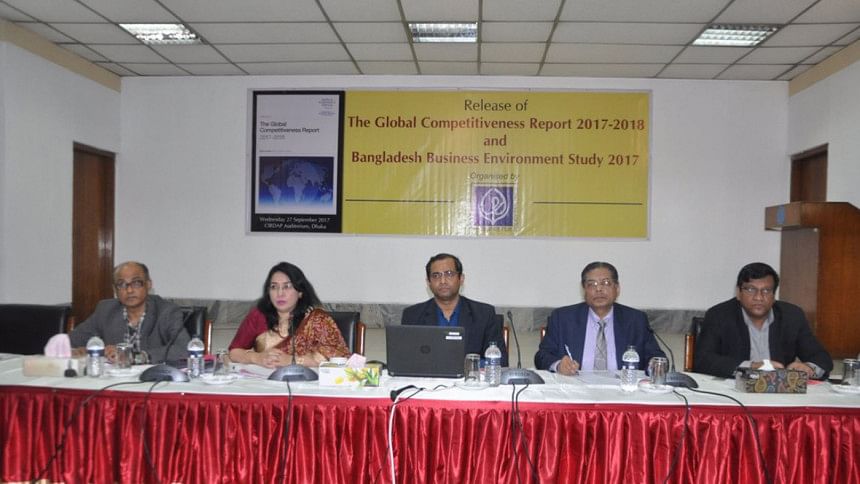 This is the fifth year since 2013-14 Bangladesh has been improving its competitiveness.
For the year 2017-18, the GCR has been prepared based on Executive Opinion Survey and 85 companies, mostly local, participated in the survey on the state of competitiveness of Bangladesh in 2016.   
The survey was carried out between February and May this year to prepare GCR's Bangladesh's chapter, according to CPD.
The GCR 2017-18, which was unveiled globally yesterday, puts Switzerland as world's most competitive economy followed by the United States, Singapore, Netherlands and Germany.