Yarn makers benefit from falling cotton prices
Yarn market in Bangladesh remained stable in the last one year thanks to the declining cotton prices worldwide, industry people said.
Each kilogram of the widely consumed 30-carded yarn was sold at between $2.60 and $2.70 yesterday in local markets and the price was almost the same in the last one year.
Cotton traded between 54 cents and 55 cents a pound yesterday in international futures markets. The price of a pound of the white fibre was between 60 cents and 64 cents four months ago.
"The domestic yarn market is stable now as the cotton prices declined worldwide," said Momin Mondol, managing director of Mondol Group, one of the leading garment exporters of Bangladesh.
About a year ago, cotton was traded at nearly $1 a pound in the global market when yarn was sold for $3.3 to $3.4 a kg in Bangladesh.
"However, yarn prices declined now and we have received ample work orders from international retailers," said Mondol, who exported $273 million worth of garments, mainly knitwear items, in 2015.
Mondol needs 1,600 tonnes of yarn a month and he expects to export $300 million worth of garment items at the end of 2016, he said.
Yarn prices may fall or remain stable as cotton prices are declining worldwide, said Abdul Hai Sarker, chairman of Purbani Group, a yarn and garment producing company.
Yarn stocks at spinning mills in Bangladesh have gone down amid rising demand from garment exporters, Sarker said.
Garment exports increased 9.47 percent year-on-year to $18.12 billion in the July-February period of the current fiscal year, according to data from the Export Promotion Bureau.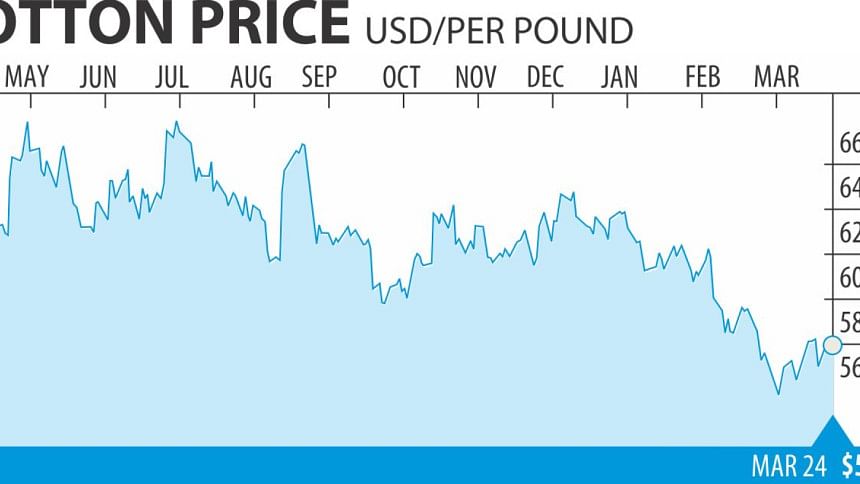 "I am expecting a good supply of cotton at favourable prices in near future as well," said Sarker, who is also a former president of Bangladesh Textile Mills Association (BTMA).
Bangladesh has recently overtaken China as the largest cotton importer in the world as China has stopped importing cotton due to its huge stockpile.
As of August, China's cotton stock stood at 64.58 million bales (480 pounds make a bale), which is half the annual global production.
China's stock rose because of a drop in consumption that resulted from higher production costs and shortage of workers. In 2015, Bangladesh imported 6.1 million bales of cotton, which was 5.59 million in 2014, according to the BTMA.
"I think yarn prices will remain stable in Bangladesh," said Liton Saha, president of Bangladesh Yarn Merchants Association.