How our busy lives have shaped the use of home appliances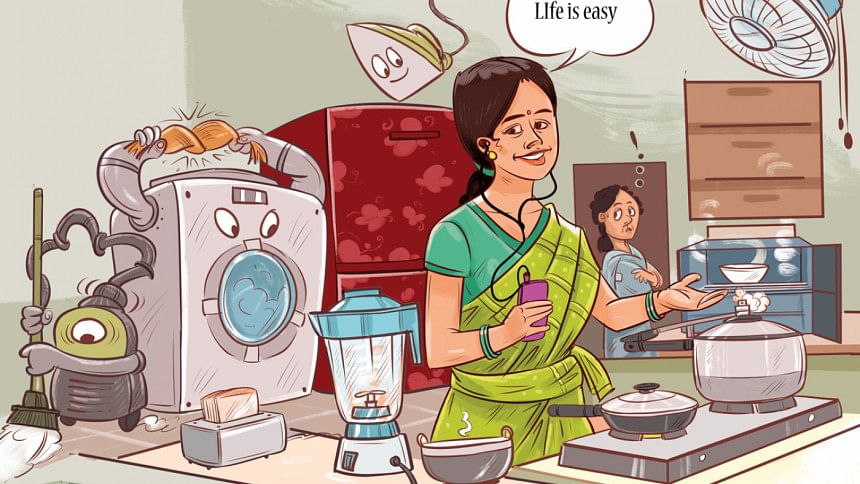 Whether it's a working professional or homemaker, there is one thing undeniably common among us all. And that is, we are too busy.
At a time when time management is of utmost importance, our home appliances and workspace have become ergonomic to keep up with our busy lives. Almost every household in all major cities of the country is dependent on a wide range of electronic appliances.
Just think about our grandmothers: they cooked each meal from scratch, washed the laundry by hand, dried clothes on the line and beat the dirt out of the rugs. We really don't have to go back too far to see how industrialisation has affected homemaking.
Natasha Ahmed, who works at a multinational bank in Dhaka, said, "Come to think about it, every single minute of my life is intertwined with appliances."
"I start my day by putting bread in the toaster and the dirty laundry in the washing machine. Even the carpets are vacuumed, and the microwave is used at every single mealtime."
"These technologies are a game-changer in people's lives. Why? Because they free up time, especially the time of those traditionally restricted to domestic work, to do more productive work."
Stay-at-home Munaima Hussain said, "Even though I spend a major portion of my day at home, I cannot imagine life without appliances."
"From preparing tiffin to hosting parties, I place all used dishes in the dishwasher every day. Maids are unreliable and moody, but my dishwasher runs every single day," said Munaima, who lives in a joint family.
Akbar Hussain, a salesman at an electronic store on Satmasjid Road in Dhanmondi, said that consumers' buying patterns are shifting these days, with the focus being on smart living and healthy cooking.
"Our sales of juicers, air fryers and grill ovens have experienced a high as more and more people are conscious and want to avoid saturated oils."
The best time for appliances sales is before a special occasion mostly, as people want to take advantage of the different promotions on offer, he added. "We sold higher units of air conditioners at the start of summer, while refrigerator sales peak before Eid-ul-Azha."
Rising economic growth has made Bangladeshi consumers more affluent. An indication of this is evident in the sales of electronics.
People now have pertinent knowledge about diverse brands of electronic home appliances.
The main factors involved in selecting home appliances are price, followed by brand name, quality, service and special offers.
Fahmida Begum, who runs a boutique, said, "I had an existing fridge that was operating fine, but I wanted a sleek, more modern-looking fridge to match the other furniture and interiors of my home."
"I went to an electronics store and got an exchange offer on my existing fridge and upgraded to a newer model," said Fahmida, who lives in Banani. "Aesthetics is very important for today's homemakers."