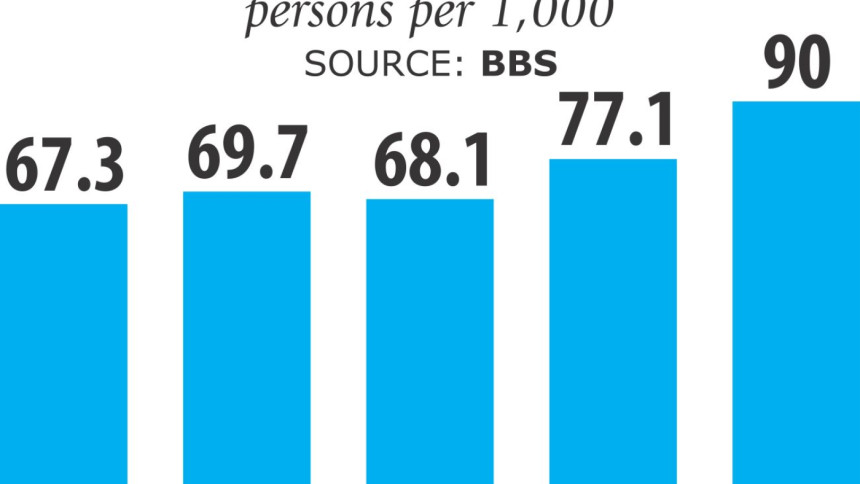 Migration to urban areas from rural regions and other towns surged in 2015 for the third consecutive year amid people's quest for income opportunities and better living, according to Bangladesh Bureau of Statistics.
Some 90 out of every 1,000 persons moved to urban areas in 2015, up 17 percent year-on-year, according to Bangladesh Sample Vital Statistics (BSVS) 2015, published by BBS recently.
BBS data shows migration to urban areas from rural areas rose marginally during the period, but an increased number of people migrated between urban areas.
In 2015, 60.5 persons per 1,000 moved between urban areas, up 48.9 percent year-on-year.
"It appears that increased number of people have moved from small towns to big towns or cities, particularly for economic factors, education and healthcare," said AKM Ashraful Haque, project director of Monitoring the Situation of Vital Statistics Project of the BBS.
Marriage is also a factor behind the higher rate of migration, he added.
However, migration from urban to rural areas remained unchanged at 5.1 persons in every 1,000 between 2014 and 2015, according to BSVS 2015.
"Higher urban out-migration rate possibly contributed significantly to urban in-migration rate," said the BBS in its BSVS 2015, which provides various data including dependency ratio, fertility rate, mortality, life expectancy rate, marriage, literacy and religious composition.
The survey was done based on data collected from 215,811 households in urban and rural areas.
The Dhaka division recorded the highest migration rates in 2015 and Rajshahi division the lowest.
The BSVS report said the flow of out-migration exceeds in-migration rates in rural areas. The urban areas, on the contrary, are gaining population, with a net rate of 6.2 persons per 1,000 of population, it added.
Hossain Zillur Rahman, executive chairman of Power and Participation Research Centre, said income inequality may not be the main reason behind the rising migration to urban areas; it may be mainly because of access to quality human development.
"It may be that everyone is trying to move towards the apex of the system," he said, adding that the data indicates balanced urbanisation is not taking place.
"It may be reflective of the inequality in urban facility development."
He cited the case of Jhalakathi where income has risen but the facilities for education and healthcare have not been developed enough.
"The nature of urbanisation has become an important feature of growing inequality. But I think it certainly requires deeper examination," said Rahman, also a former adviser to the caretaker government.
One of the key drivers in inequality now in Bangladesh is access to quality human development.
"That inequality is also an urban inequality," he said, adding that a certain facility available in Dhaka may not be available elsewhere.
Growing insecurity may be another reason, he added.
Prior to 2013, migration to cities was on the rise. The rate of people moving to urban areas was faster in the decade 2001-2011 than in 1991-2001. Some 33.2 persons in every 1,000 migrated to urban areas in 1991, according to BBS.
A host of factors -- poverty, lack of year-round jobs, river erosion, natural disasters, search for better jobs and living along with marriage and education -- are responsible for the soaring migration, analysts said earlier.
Internal migration was also buoyed by massive expansion in the apparel, trade and services sectors.
People, mainly the youths, have migrated from less-advanced regions to economically developed areas, notably Dhaka, Chittagong and their surrounding areas that offer livelihood opportunities, they added.