Unilever, UNDP partner for SDGs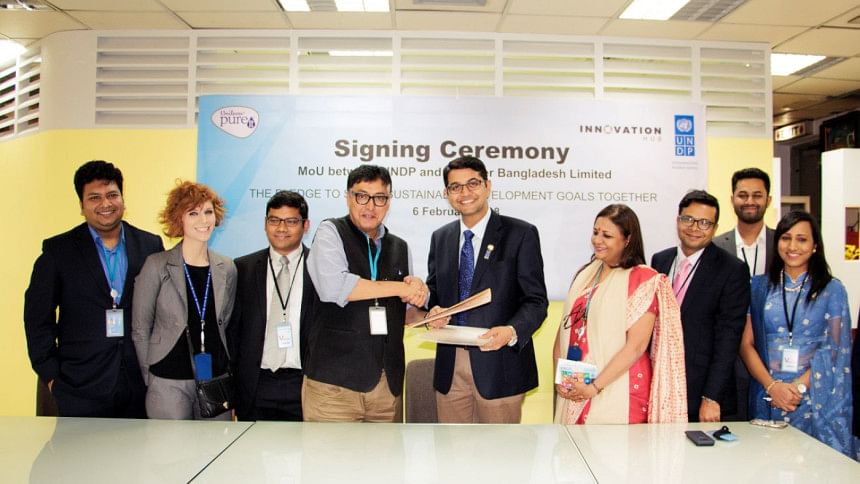 Unilever Bangladesh has recently teamed up with United Nations Development Programme (UNDP) Bangladesh to help the country attain the Sustainable Development Goals (SDGs).
The partnership aims at convening relevant stakeholders to support private sector engagement, channelising capital towards creating impact through innovative models of engagement and generating data from collaboration for policy advocacy, said Unilever Bangladesh in a statement yesterday.
Sudipto Mukerjee, country director of UNDP Bangladesh, and Kedar Lele, CEO and managing director of Unilever Bangladesh, signed a memorandum of understanding in this regard on Tuesday.
Through the partnership, Unilever Bangladesh and the UNDP will also co-create a platform to invite ideas on how to ensure safe drinking water for people of Bangladesh.
It will create awareness among the disadvantaged people through its water purifier brand Pureit.
At the same time, Unilever will support various projects of the UNDP to create employment opportunities for women and also enable small entrepreneurs in disadvantaged communities by providing means of livelihood.
"Through 2030 Agenda for Sustainable Development, the world is going to embrace a transformative journey, in which private sector is one of the main partners," said Mukherjee. 
"The deal will inspire other private companies to join us in achieving all the targets by 2030," he said.
"Unilever's commitment to SDGs is well recognised across the world…with the nature, scale and reach of our business we contribute to global goals," said Lele.
"We are delighted to bring that partnership to Bangladesh by committing ourselves to work together with UNDP's agenda to create a positive impact for the local communities," he said.