Thailand keen to invest in large infrastructure projects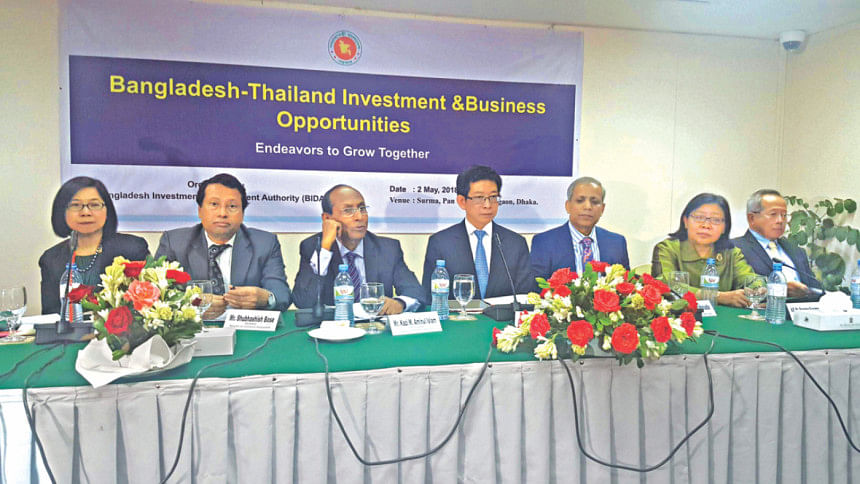 Thailand wants to invest in Bangladesh's large infrastructure projects as part of efforts to boost bilateral trade and economic ties, a top Thai minister said yesterday.
Bangladesh needs more power plants, water treatment plants, highways, seaports, airports and new terminals, said Kobsak Pootrakool, a minister attached to Thai Prime Minister's Office.
Pootrakool looks after economic reforms, National Board of Development and economic zones and Board of Investment of Thailand.
"We have a good scope to participate in these big infrastructure projects," he told reporters after a meeting with the officials of Bangladesh Economic Zones Authority (Beza) in Dhaka.
A high profile 32-member delegation led by Pootrakool arrived in Dhaka yesterday on a three-day visit to explore trade and investment opportunities.
As Bangladesh's economy and its consumer base are growing steadily, the Thai minister sees scopes for investments in renewable energy, household equipment, electronics and automobiles.
Thai Prime Minister Prayut Chan-o-cha showed his country's interest to sign a bilateral free trade agreement (FTA) during the visit of Bangladesh's Foreign Minister Abul Hassan Mahmood Ali to Thailand in March, Pootrakool said.
Later on April 23, Commerce Minister Tofail Ahmed said Bangladesh has decided to sign an FTA with Thailand.
Dhaka has long bilateral trade relations with Bangkok, but the trade balance heavily tilts towards Thailand.
Thailand exported products worth $1.2 billion to Bangladesh in 2017 and imported goods worth only $61 million, according to Suebsak Dangboonrueng, minister counselor for commercial at the Thai embassy in Dhaka.
Bangladeshi products have huge potential in the Thai market, Pootrakool said. "Many Thai use Bangladeshi suits and shirts."
A big number of customers in Bangladesh also buy Thai products, he said.
Pootrakool said Thailand can be the gateway to Southeast Asia for Bangladesh and vice versa.
The Thai delegation took a greater interest in the incentive and offerings of the Beza.
The two sides shed light on the geographical proximity of Bangladesh and Thailand, according to a handout of Bangladesh's foreign ministry.
Considering Bangladesh as an attractive investment destination, the Thai minister agreed to sign a memorandum of understanding—proposed by Bangladesh—between the Beza and the Thai Industrial Promotion Authority.
A number of Thai investors visited different economic zones, including the Mirsarai Economic Zone. Although Bangladesh has long trade relations with Thailand, it is not a stable one, said Paban Chowdhury, executive chairman of Beza.  The bilateral trade has fluctuated in the last seven to eight years and this is not a positive one for Bangladesh, he said at the meeting. "We need a stable trade with Thailand and it will be possible if businesses start investing in Bangladesh. We are ready to provide land in the economic zones to Thai investors."
Thai businesspeople are interested to invest in the power and energy sectors in Bangladesh, he said.
Chowdhury said he thinks Thailand would take initiatives now to materialise their plans to invest in Bangladesh after the visit of the Thai delegation. 
In another discussion with the officials of Bangladesh Investment Development Authority (BIDA), Pootrakool urged Bangladesh to launch coastal shipping between Chittagong port and Ranong Port of Thailand to increase trade volume and reduce transport cost. BIDA organised the discussion on Bangladesh–Thailand investment and business opportunities, at Sonargaon Hotel in Dhaka yesterday.
The Thai minister also suggested for forming a joint commission to work on the bilateral trade balance.
At the event, Kazi M Aminul Islam, executive chairman of BIDA, made a presentation on investment facilities in Bangladesh. Shubhashish Bose, commerce secretary, and Shafiul Islam Mohiuddin, president of the Federation of Bangladesh Chambers of Commerce and Industry, were also present.