Telenor to invest more, seeks clear terms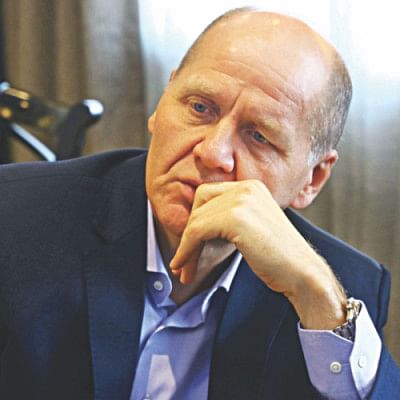 Telenor Group, the majority shareholder in Grameenphone, is keen to invest heavily in Bangladesh to broaden its digital services, especially in 4G segment, but wants to be clear on terms and conditions first, said its top executive.
"Digital services are the future and Grameenphone is fully ready to invest in this segment," Sigve Brekke, CEO of the Norwegian multinational telecom company, said in an interview with The Daily Star yesterday. He, however, didn't mention the amount it plans to invest.
"We see a huge opportunity in Bangladesh. We are willing and waiting to invest in network to offer the service. But the terms and conditions to make money from it have to be clear."
Brekke said Grameenphone has made it clear to the government that it needs predictability on policies and regulations because "we are going to invest huge amount of money".
"We need to know under which basis we are investing. We need predictability on the Telecom Act, something the industry has been discussing with the government for many years," Brekke said, adding that GP wants business-friendly conditions in every aspect.
Telenor owns a 55.8 percent stake in Grameenphone, while Grameen Telecom owns 34.2 percent, and the general and institutional shareholders the remaining 10 percent.
The spectrum price is too high in Bangladesh, Brekke said. "If the government wants to maximise upfront benefits from the payments, we will have no other option but to pass some of the burden on the customers."
He blamed the poor service quality on the spectrum scarcity and poor architecture of Dhaka.
"That's why we are urging the government to use the spectrums in an efficient way and place more spectrums on auction with an affordable price."
According to the approved guideline, the floor price for each megahertz of spectrum in the 2,100 band would be $27 million and $30 million in the 900 and 1,800 bands.
The Telenor CEO said Grameen-phone has established super network in Dhaka similar to that of in Norway or Bangkok but it needs more spectrum to provide quality service.
Brekke joined Telenor in 1998. Before becoming the CEO, the Norwegian was the executive vice president and head for the Asia region of the group and chairman of Grameenphone.
Telenor has sought permission so it can set up its own infrastructure to offer the best-in-class services to the customers.
At the moment, mobile operators are not allowed to lay fibre optic cable, a vital component for 4G services.
Likewise, mobile operators are also going to lose authority to set up towers under a new licensing regime where tower companies will own all the towers and provide services to the telecom operators.
Brekke also touched upon Bangladesh's low smartphone penetration—now less than 40 percent— saying the country would have to go a long way to reap the maximum benefit of the internet.
The price of smartphones would come down to an affordable level on the back of local assembly, he said. "As a result, the penetration will increase."
According to Brekke, Bangladesh will not reach its goal of establishing Digital Bangladesh without the mobile operators as only they have connections with millions of people.
Grameenphone CEO Michael Foley, who was present during the interview, said local handset manufacturing is developing in Bangladesh and it will drive prices down.
He said there is huge opportunity for mobile financial services in Bangladesh.
"Financial inclusion is weak in Bangladesh as mobile operators have no participation. The real financial inclusion will not happen unless mobile operators are allowed to be involved in the process. A truly Digital Bangladesh will not happen until people find a way to be financially included."
Brekke said Grameenphone has no intention to take business away from banks.
"We can't be an alternative to banks; rather we can financially include more people with the digital process which can ultimately help grow the economy."
Telenor is allowed to offer banking services in Pakistan and Myanmar and has more than 2 million banking customers in Pakistan.
Telenor also has some ups-and-downs in Bangladesh.
Accenture, a global outsourcing firm where Telenor has 49 percent share, recently announced it would wind up its operations from Bangladesh.
Brekke did not make elaborate comments on the issue other than saying that it is 'unfortunate'.
GPIT, a sister concern of Telenor and an offshoot of Grameenphone, sold majority shares to Accenture in 2013.
The market leader also shut down two e-commerce business platforms—ekhanei.com and kidorkar.com—this year.
The two ecommerce sites did not get much traction. On the other hand, Telenor has successfully replicated two digital services – WowBox and Tonic, both developed in Bangladesh – in Pakistan and Myanmar. And Brekke termed it as a success of Grameenphone.
About axing of Grameenphone's manpower, Brekke said when a company moves to digital services things will be done more efficiently, which may make it necessary to cut jobs.
Previously, Grameenphone used to manage call centres with thousands of people. But after the launch of an application, its customers now can get all the support they need. Only a few people are now required to run the call centres.
"It is quite natural as we are trying to digitalise the company. One the other hand, in some areas we need more people," Brekke added.
Grameenphone now employs less than 2,400 people, down from about 5,000 a few years ago.