MNP users face troubles
Many reverting to old operators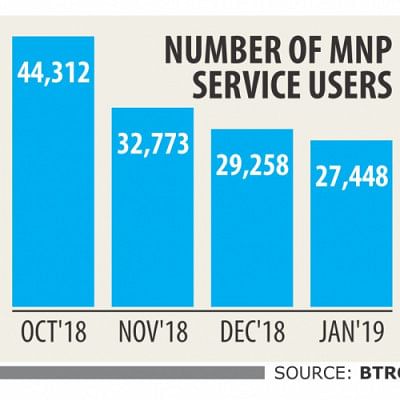 Fed up with the poor service quality, Imran Hossain, a buying house executive, could not wait to switch his mobile operator. But what held him back was that he would have to give up on his 11-digit mobile number, which he had circulated to one-too-many people.
His wishes were answered in October last year, when the government rolled out the mobile number portability facility, becoming the 72nd country in the world to do so.
Hossain rushed to avail the service as soon as it came out, but his relief at switching to a better network operator was short-lived. He was no longer getting text messages for transactions in his accounts with banks and mobile financial service (MFS) providers.
Moreover, one-time passwords (OTP) of authentication requests from Google, Facebook and other entities stopped coming. The situation turned deeply troublesome for him when he failed to respond to such an authentication request of the Bangladesh Election Commission.
And, it was not possible to return to his previous operator as the rules did not permit it before 90 days. He just gritted his teeth and waited out the 90-day embargo and on January 2 he went back to his previous network.
"But there were some new problems this time," said a frustrated Hossain.
Hossain's case is not an isolated one. The poor feedback on the MNP means many who were looking forward to switching operators have now forfeited their plans, taking the momentum off the service that the Bangladesh Telecommunication Regulatory Commission (BTRC) introduced to enhance competition in the market.
"In some cases, it has become a nuisance," said," said Mohammad Zulfikar, chief executive officer of Infozillion Teletech BD, the MNP service provider.
Since October last year, only 1.34 lakh availed the service to either switch operators or revert to their previous ones. The number of customers going for the switch is declining every month, said a BTRC official.
Infozillion is blaming it on the other service providers. Following procedures, the company has set up a "deeping" platform where all the financial and SMS service providers and other platforms need to connect. But Infozillion found that none had connected in the past four and a half months.
"If related service providers connected with us, the problems will be solved within a day," said Mohammad Zulfikar, chief executive officer of Infozillion, adding that it was not advertising the MNP service until all the problems have been ironed out. About the customers' challenges, Zakir Hossain Khan, spokesperson of the BTRC, said they have taken the issue seriously and were acting on it. "We are hopeful that the problem will be solved within a short time," Khan said.
As of January, Robi received 93,828 new subscribers from the three other players while 23,911 left, making it the biggest beneficiary of the MNP service, according to a report of the BTRC published yesterday.
Robi believes that their "superior" quality of network and service experience have convinced the subscribers to join them, said Shahed Alam, its head of corporate and regulatory affairs. The report also shows another 14,896 customers tried leaving Robi but failed for some procedural challenges.
Some 25,615 customers used the MNP service to join Banglalink, the third largest operator, while 45,092 left. And 44,031 more tried but failed to leave for different reasons.
Grameenphone got only 12,346 customers from their competitors, while 62,317 jumped ship. A total of 39,857 customers also tried to leave Grameenphone but could not. Teletalk found 2,002 customers while 2,301 left.