Bangladesh launches 5G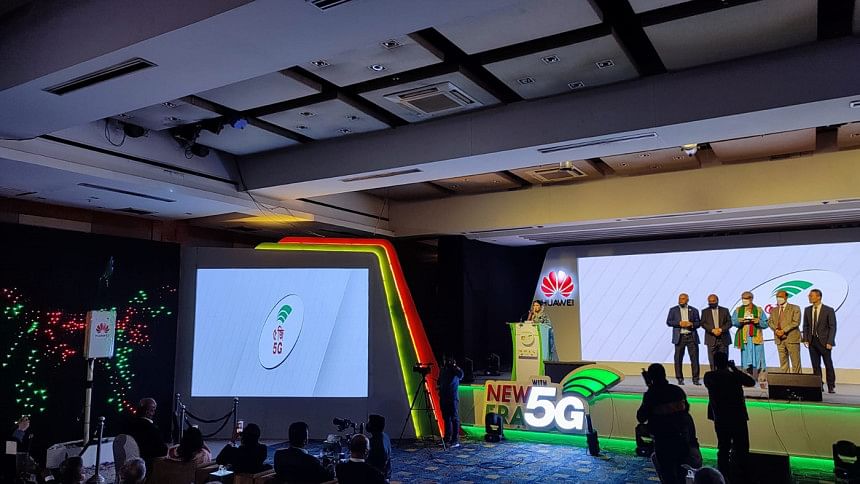 Bangladesh entered into a new era of digital connectivity as the state-run mobile phone operator Teletalk launched fifth-generation (5G) of mobile internet connectivity today.
The trial run of the super-speed technology was kicked off at a programme titled 'New Era with 5G' at the Radisson hotel in Dhaka this evening in collaboration with Huawei.
Initially, most of Teletalk's mobile phone subscribers will not get the connection as the mobile operator is introducing the service on an experimental basis in six areas in the country.
The areas are: the Prime Minister's Office, Parliament, Secretariat, Bangabandhu Museum on Dhanmondi 32, Bangabandhu Sheikh Mujibur Rahman's birth place Tungipara in Gopalganj, and the National Martyrs' Memorial in Savar.
The 5G network will be rolled out at the district level gradually and Teletalk has a plan to deploy 200 5G sites by next year.
Sajeeb Ahmed Wazed, the prime minister's ICT affairs adviser, inaugurated the 5G service virtually as chief guest.
Posts and Telecommunications Minister Mustafa Jabbar was present as special guest at the programme chaired by lawmaker AKM Rahamatullah, chairman of the parliamentary standing committee on the telecom ministry.
Prime Minister Sheikh Hasina also shared her inspiring comments through a video message at the programme.
However, the private operators, including Grameenphone and Banglalink, are expected to roll out 5G next year after the auction for spectrum in March.
Through the 5G connectivity, Bangladesh joins more than 60 other countries that availed the technology.
The 5G technology promises to provide data speeds at least 20 times faster than 4G and underpins the great advances of the next era, from self-driving cars and augmented reality to smart cities and artificial intelligence, according to Reuters.
The technology is expected to bring higher-quality streaming and the ability to livestream to bigger audiences.
"Today, we are only taking the first step towards 5G, and there is still a long way to go in the future," said Md Shahab Uddin, managing director of Teletalk Bangladesh Limited.
For more than the last 21 years, Huawei has been playing a responsible role as one of the family members of the ICT ecosystem in Bangladesh, said Zhang Zhengjun, chief executive officer of Huawei Bangladesh.
"We have always been there to support our customer's needs with a key vision of building a fully connected, intelligent Bangladesh. Huawei Bangladesh is extremely proud to be a part and partner of this historic moment when Bangladesh is going to enter the 5G era," Zhengjun said.
Huawei has been playing an instrumental role in deploying 5G technology around the world, said Simon Lin, president of the Asia Pacific region of Huawei.
"Bangladesh, I believe, will also get benefited from our state-of-the-art technology for expediting the adoption of 5G technology."