Creditors move to collect dues from Citycell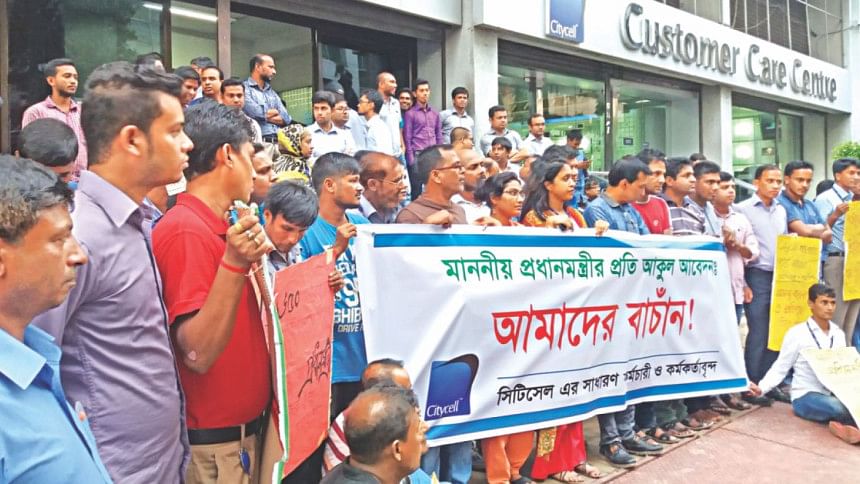 The first hearing of a winding up petition filed by China Development Bank to realise its dues of $36.63 million from Citycell was held yesterday, amid a government move to cancel the licence of the mobile operator.
Winding up is the process of selling all the assets of a business, paying off creditors, distributing any remaining assets to the partners or shareholders and then dissolving the business.
The government has set in motion the process to revoke Citycell's licence after the operator failed to pay Tk 477.51 crore it owes the government.
The operator owes more than Tk 4,000 crore to banks, vendors, tax authorities, regulator and other operators, according to insiders.
At the hearing, Khondker Reza E Rakib, the lawyer of Bangladesh Telecommunication Regulatory Commission, said the government's concern is how it will realise the dues.
"As the dues are public money, we urged the court to ensure securing that amount first," he said.
Tanjib-ul-Alam, the lawyer of China Development Bank, said Citycell sought more time. The next hearing is on September 4. On Tuesday, State Minister for Telecom Tarana Halim said the licence cancellation process has started and they will send a recommendation to the prime minister, who is in charge of the telecom ministry.
Meanwhile, BTRC in a notice said the switchover period for Citycell subscribers to other operators has been extended until August 23, as the initial deadline ended on Tuesday. Earlier, Citycell subscribers were asked to switch to any other operator by August 16.
The BTRC notice said the government has decided in principle to cancel the licence of Citycell and its permission to use radio frequency equipment.
Employees of the oldest mobile phone operator yesterday urged the prime minister to save their jobs, in a human chain in front of their head office.
Ashraful Karim, president of the employees union of Pacific Bangladesh Telecom Ltd, the owning company of Citycell, said they have placed a seven-point demand.
They demanded payment of four months' salaries before August 21 with festival bonus and other service benefits like provident funds and gratuity. The employees union also sought salaries of five years before the operator shuts down.
The operator currently has 650 employees and 450 were permanent.
They will put forward a memorandum to the prime minister on August 22, Karim added.