Beximco launches DTH service Akash
Will go on air Sunday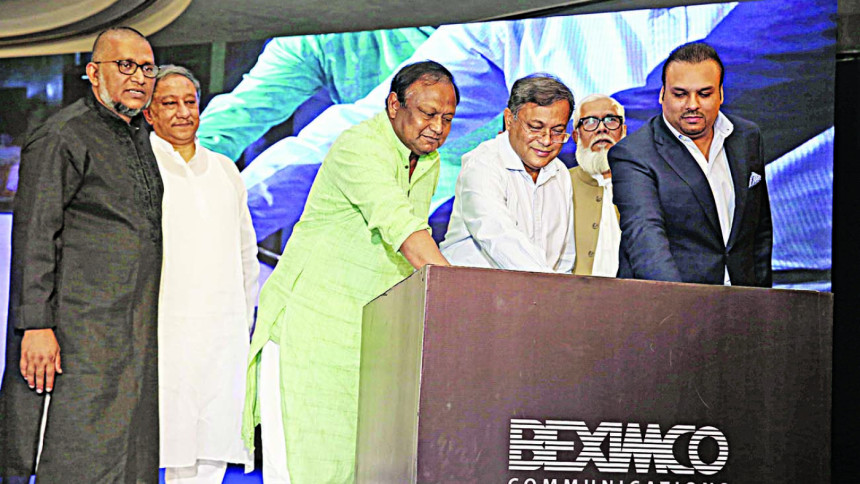 Beximco's direct-to-home (DTH) satellite service venture Akash is set to go on air on Sunday, with the company offering one-month free subscription to lure people in to the new way of watching TV.
In DTH, TV channels are transmitted from the satellite to a small dish antenna mounted on the window or rooftop of the subscriber's home. So, the broadcaster directly connects to the user, doing away with middlemen like local cable operators, who tend to offer channels of their preference.
Not only is there a greater selection, the picture and sound quality is better for the DTH viewer since the signal is not split through a cable.
Many in Bangladesh are currently enjoying DTH service but of Indian providers, which is illegal as per transmission rules.
And this is not Beximco's first foray into the DTH playground: earlier in 2016 it had launched the country's first DTH service under the brand name of RealVU in Dhaka, Sylhet and Chittagong divisions. But the RealVU's operations were suspended later due to different challenges.
Akash, which can be viewed as a reboot of RealVU, will provide 115 satellite television stations, of which 20 will be HD. All local channels will be available save for GTV.
Customers will be charged only Tk 399 per month including VAT for their initial standard package, while installation of the system -- that includes HD set top box, multi-function remote control unit, heat and rain resistant KU band dish -- will cost Tk 6,499.
Akash will provide 24/7 active call centre and after sales support.
At present, customers can sign up for Akash through its authorised retailers in 20 districts – Dhaka, Mymensingh, Tangail, Kishoreganj, Narsingdi, Gazipur, Narayanganj, Manikganj, Cumilla, Noakhali, Feni, Cox's Bazar, Chattogram, Khagrachari, Rangamati, Sylhet, Moulvibazar, Habiganj, Brahmanbaria and Sunamganj.
Within the third quarter the company plans to cover all 64 districts, according to Faisal Hyder, chief executive officer of Beximco Communications.
Beximco will be providing the DTH service by taking connection from the Bangabandhu-1 satellite, in a first concrete sign of the monetisation of the venture that cost the taxpayers Tk 2,702 crore. As of now, Akash will be using five transponders of the country's lone satellite.
"This technology will change the TV watching experience in the country with its supreme picture and sound quality," Hyder said yesterday at the launching ceremony of Akash held at The Westin hotel in the capital.
Akash plans to bring more channels in future and introduce services like video-on-demand.
The technology will play a vital role in implementing the Broadcast Act, said Hasan Mahmud, information minister, at the ceremony.
At the same time, it will increase government revenue and will remove the hazards of cables.
DTH technology will also be helpful in preventing advertisements on foreign TV channels, Mahmud added.
Commerce Minister Tipu Munshi and Beximco Communications Chairman Shayan F Rahman spoke at the occasion.
Salman F Rahman, prime minister's private industry and investment advisor; Hasanul Haq Inu, former information minister; and Shahjahan Mahmood, chairman of Bangladesh Communication Satellite Company, were also present.