Telcos losing customers for biometric SIM registration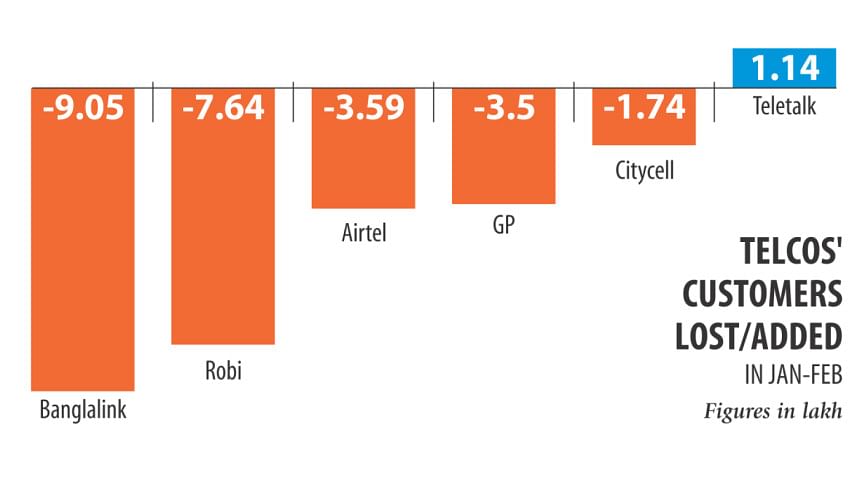 The telecom sector is going through a rough patch for the second consecutive month as operators are losing customers after the government mandated fingerprint re-registration for all SIMs.
In the first two months of 2016, mobile phone operators lost 1.97 percent of their active connections that dropped to 13.11 crore at the end of February, according to Bangladesh Telecommunication Regulatory Commission's monthly report published yesterday.
Although the number of active SIMs declined, active internet connections saw 7.76 percent growth in these two months.
As of February, the number of active internet connections stood at 5.83 crore, which was 5.41 crore at the end of 2015.
All five private operators saw their active connections drop in January and February, following the government's move to make the biometric verification mandatory for all users. For the same reason, people are not buying new SIMs either.
The industry began the year with 13.37 crore active SIMs and lost 26.35 lakh in the first two months.
The government launched biometric verification for SIM registration on December 16 last year.
Officials of operators pointed at the government move for the drop in active connections, but declined to comment on it.
However, the government said it is a temporary situation and the operators will get back their real users once the process is completed.
"We are going through a transformation process to find the real uses through biometric registration. I think the market may bear the brunt but, in the long run, it will positively impact the sector," said Tarana Halim, state minister for telecom.
Market insiders said total connections may decline further as sales of new SIM cards are almost zero.
If a SIM is not used for 90 days, it should be declared inactive, according to BTRC rules.
Leading operator Grameenphone's customer base declined to 5.61 crore after it lost 3.5 lakh subscribers in the last two months.
Banglalink lost 9.05 lakh active subscribers in January and February, which brought its customer count down to 3.20 crore.
Robi's active connections fell to 2.76 crore after losing 7.64 lakh subscribers in the first two months.
Airtel, that awaits a merger with Robi, lost 3.59 lakh customers at that time, bringing its total subscriber base down to 1.04 crore.
At the end of February, Citycell's subscriber base stood at 8.33 lakh after shedding 1.74 lakh connections.
Only state-run Teletalk's subscriber base increased in January and February, as it is yet to run biometric verification at the retail level. It added 1.14 lakh new connections in this time to take its subscriber base to 42.11 lakh.
A senior official of a mobile phone operator said they previously saw a trend among the youth to use multiple SIM cards, but they have currently stopped doing so due to the biometric verification.
The industry observed a similar situation in October-December of 2012, when the regulator halted pre-activation.  The industry had lost 9.91 lakh subscribers in those three months, but the number of lost subscribers crossed 26 lakh in January-February this year.
"We fear if this trend continues, people who perhaps bought several SIM cards are now registering one or two, and the rest are becoming inactive," the official said, asking not to be named.
INTERNET CONNECTIONS RISE
The number of mobile internet users in the country increased by 41.97 lakh to stand at 5.55 crore after February; it was 5.14 crore at the start of the year.
The total number of internet connections stands at 5.83 crore as of February, where internet service providers are seeing positive growth. They ended February with 26.69 lakh active connections.
Meanwhile, WiMax operators are continuing negative growth like in the last two years; they had only 1.36 lakh customers at the end of February.
The two WiMax operators had 3.02 lakh connections in March 2014.