Cut dependence on VAT to protect poor: EquityBD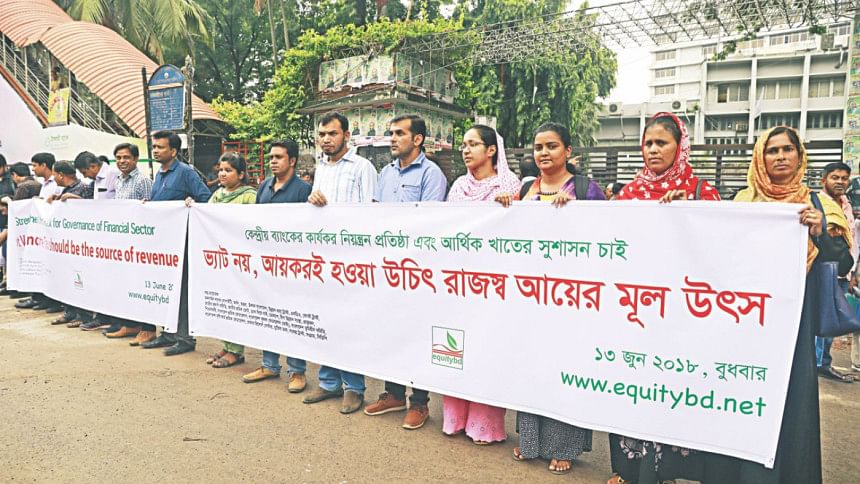 An alliance of 20 local non-governmental and civil society organisations yesterday urged the government to cut dependence on value added tax (VAT), as it takes a heavy toll on the poor.
The alliance—EquityBD—wanted the tax administrator to collect more income and corporate tax and realise black money to finance the national budget for upcoming fiscal year.
It also demanded collecting more tax from the rich instead of imposing a higher tax burden on the middle class.
"VAT is a regressive tax. It increases burden on the poor. When both the poor and the rich buy the same product, they pay the equal amount of VAT," said Rezaul Karim Chowdhury, executive director of the Coastal Association for Social Transformation Trust.
He was addressing a human chain the alliance formed in front of National Press Club in Dhaka with numerous placards, such as one reading "No VAT on Poor".
Other placards demanded steps to stop capital flight and to take action against swindlers who were behind loan scams in the banking sector.
Recapitalisation of corruption-ridden banks with the taxpayers' money goes against good financial governance, reads another placard.
EquityBD urged the government to strengthen Bangladesh Bank to establish governance in the financial sector along with a bank commission.
Chowdhury said Finance Minister AMA Muhith did not keep his commitment on establishing a neutral and a strong bank commission.
"This will assist bank owners to plunder more public money from banks," he said, adding that the proposed corporate tax cut for banks caused the state to lose taxes while making bank owners richer.
He also demanded steps to realise black money following India's example and steps to bring back the siphoned off money.
Publish a white paper on the 3,000-3,500 Bangladeshi who have homes in Malaysia, said Chowdhury.
Md Badrul Alam, president of Bangladesh Krishak Federation, said the government gave out over Tk 10,000 crore from 2006 to 2017 to recapitalise state banks.
These banks are suffering from capital deficits because of corruption, mostly by different companies and supported by politically appointed bank directors, he added.
The alliance said the government has not raised the tax-free income limit, which would create an extra burden for mid-income people and the poor. Mostafa Kamal Akand, networking coordinator of EquityBD, and Md Ahsanul Karim of the trust, also spoke.