Syed M Tanvir, a director of Pacific Jeans Ltd
The company set a growth target of 12-15pc a year
Keenly watching his father's work at their family business forms a major part of his childhood memories. But even then, Syed M Tanvir, a director of Pacific Jeans Ltd, said becoming a successful entrepreneur was not an easy task.
"It took a lot of hard work and innovative ideas to come to this stage," he told The Daily Star in a recent interview.
A student of Saint Placid's High School, Tanvir earned his bachelor's degree in finance from Independent University, Bangladesh and got his master's degree in international marketing from University of Leeds, UK. He joined his family business 10 years back when he was only 24.
Even when he was a student, he spent his holidays in the factory, working in different departments.
As a fresh graduate, getting to know the functions of each department was not only challenging, but also exciting, Tanvir said. His designation demanded a high-level of interpersonal competence to take hold of the diverse business operations and prove his ability to run the organisation.
"Garment manufacturing is such a business where you experience new problems every day. If you are not involved and experienced enough, you can't solve these problems efficiently," Tanvir said.
His father M Nasir Uddin started a factory, NZN Fashion Ltd, in 1984 with only 500 people. The factory began manufacturing jeans for an Italian brand in the following year when there was no denim laundry in the country. The factory used to stitch the jeans and ship them unwashed to Italy. His father established the first denim laundry in Bangladesh in 1986. 
In 1996, Nasir set up Pacific Jeans in Chittagong Export Processing Zone  with 1,500 people. 
From a small garment factory established in 1984, Pacific Jeans has now been transformed into a supreme institution for premium jeans.
"Since then, we have had consistent growth. In 2000, we added another production facility, Jeans 2000 Ltd. In 2008, we expanded further with Universal Jeans Ltd. And our latest addition in 2014 is NHT Fashion Ltd," Tanvir said.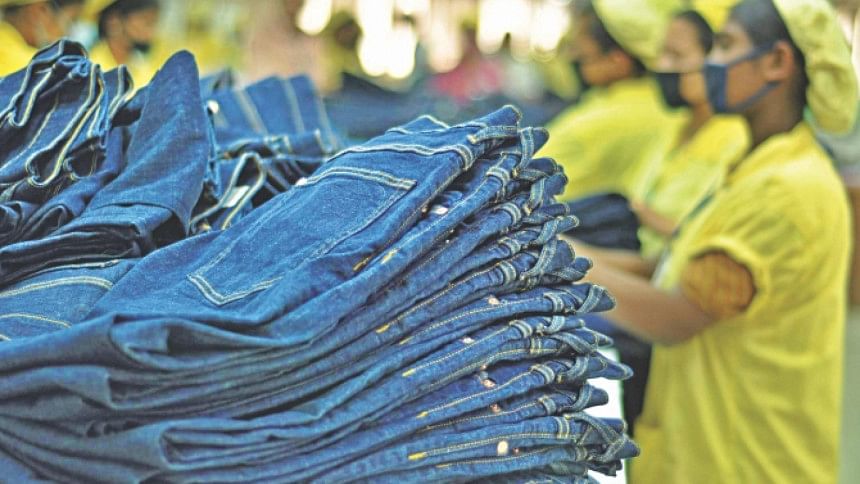 Pacific Jeans has eight production units employing around 27,000 people. It produces 40 million pieces of jeans a year, exporting to more than 30 countries. The group has an annual export turnover of $360 million.
The young director said Pacific Jeans has set a growth target of 12-15 percent a year.
Exporting products to the US and around 20 countries in Europe in the last decade, Pacific Jeans has also focused on unconventional markets in Asia like China, Japan, Thailand, Malaysia and Singapore.
There is scope for value addition in these markets, said Tanvir, adding that they are also trying to enter Brazil, Argentina, South Africa and Russia.
The group's management takes good care of their workforce by allowing them to participate in decision-making, so that they develop a sense of belongingness.
Instead of following a business model that offers a variety of products to customers, Tanvir prefers a different strategy, which is to specialise in one single product and to keep climbing up the value chain.
The young director has a mission to strengthen the business further by focusing on consistency in quality and become a world leader in premium jeans manufacturing.
He feels there is a need to diversify the business portfolio, but it should not take their time and focus away from the existing business.
In 2013, the group tied up with Marriott International to construct a 5-star luxury business hotel in Chittagong.
Tanvir said 2014 as a very challenging year for the country's garment sector that faced new fire safety and building safety requirements as well as social compliance and product safety.
However, it was also an opportunity for the sector as it could ensure a sustainable and long-term future by complying with the requirements.
Tanvir's role model has been his father. "Since I was young, I have always been fascinated by my father's business ethics, integrity, market intelligence, hard work and passion towards his work. I have always tried to be like him."
For him there is no shortcut to success. "Young entrepreneurs should not target to become rich overnight by adopting wrong means," Tanvir said.