Sunsilk, Lux, Rin top FMCG brands
Says Kantar Worldpanel's Brand Footprint report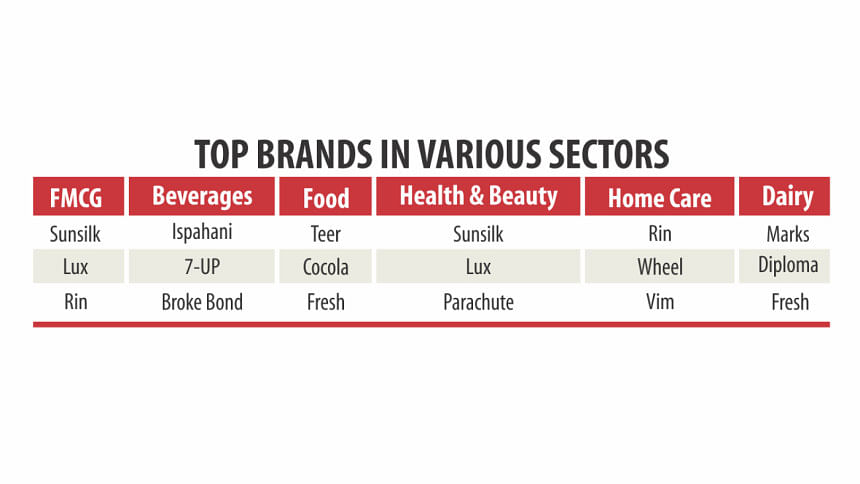 Sunsilk shampoo, Lux beauty soap and Rin detergent, all of them manufactured by Unilever, are the most chosen fast-moving consumer goods brands in Bangladesh, according to a new report of Kantar Worldpanel.
They were followed by Parachute hair oil of India's Marico and Unilever's detergent brand Wheel, said Kantar Worldpanel's Brand Footprint report, which was published earlier this month.
According to the report, only seven brands owned by Bangladeshi companies made it to the list of top 20 FMCG brands preferred by local consumers last year.
Tibet ball soap and Fast wash detergent, both owned by Kohinoor Chemical, led the local brands, ranking at 10th and 11th respectively, according to the Barcelona-based company, which monitors and measures shoppers' behaviour globally and ranks consumers preference to brands.
This year's ranking analysed more than 18,000 brands and 1 billion households in 43 countries across five continents, in the 12 months to November 2017 to prepare the report that measures which brands are being bought by the most consumers the most often.
Coca-Cola is the world's most chosen brand, picked from the shelves 5.8 billion times in a year. Colgate and Maggi came second and third, becoming the world's most chosen personal care and food brands.
In Bangladesh, Ispahani tea, soft-drink 7Up and Brooke Bond tea were the top three brands in the beverage category. In the food category, Teer, Cocola and Fresh turned out to be the top three brands, according to the report.
Sunsilk, Lux and Parachute topped the ranking in the health and beauty category while Rin, Wheel and Vim were chosen mostly by consumers for home care. In the dairy category, consumers mostly chose Marks, Diploma and Fresh brands.
Twenty-three local brands were included in the Kantar Worldpanel's annual Top 50 ranking in the FMCG category in Bangladesh last year. The remaining 27 were foreign and imported brands.