StanChart honours agriculture icons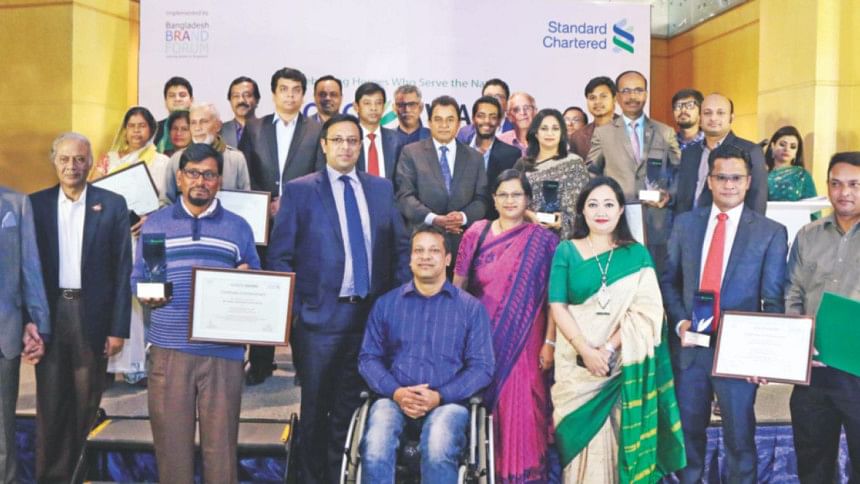 Standard Chartered Bank Bangladesh honoured best performing individuals and institutions of the country's agriculture sector through the fourth Agrow Award.
This year, the awards were given in seven categories, the bank said in a statement yesterday.
AHM Mustafa Kamal, planning minister, handed over the awards at a ceremony at the Westin Hotel in Dhaka on Sunday.
Md Shar Ali Saddar and Md Haroon Chowdhury won the Farmer of the Year award (male) while Anju Sarkar achieved the Farmer of the Year award (female).
The award for the "Farmer of the year - subsistence to market" category went to Md Nurul Haq and his group.
Bangladesh Rice Research Institute received the "Best agricultural organisation in research and innovation" award while ACI Crop Care and Public Health became the "Best agricultural organisation in support and execution".
BaSE Bangladesh received the "Best Agricultural Exporter" award while Soilsafe by Kranti Associates turned up as the winner in the "Best use of technology in agriculture" category.
The winners and honourable mentions in each category received a crest and a certificate. Each winners of the Farmer of the Year awards received Tk 5 lakh as prize money while the honourable mention won Tk 50,000.
Naser Ezaz Bijoy, CEO of Standard Chartered Bank Bangladesh; Bitopi Das Chowdhury, country head of corporate affairs, and Shariful Islam, founder and managing director of Bangladesh Brand Forum (BBF), attended the award giving ceremony.
In 2014, the bank initiated the award for which BBF has always been the implantation partner. A total of 217 nominations were received this year.
"Bangladesh has come a long way since independence in 1971 and recently attained lower-middle income status," the minister said at the event.
"In this journey, agricultural sector has always played a vital role for the economy. Bangladesh's economy is shifting towards industrialisation, yet the root stays at agriculture."
"The Agrow Award is our attempt to honour the leaders and visionaries who are taking our agriculture sector to new heights," Standard Chartered Bangladesh's CEO said.
"It is our hope that this initiative will strengthen the roots of our nation, by honouring those individuals whose work can serve as shining examples of what is possible, whose lives and achievements can inspire us all."
"As the oldest financial institution in the country, supporting the agricultural sector has been an important part of our legacy of 112 years," he said.
"We have been involved in this sector in many forms, including agri-lending, and also through supporting food processing industry and agro businesses."