Spread awareness to curb workplace harassment: analysts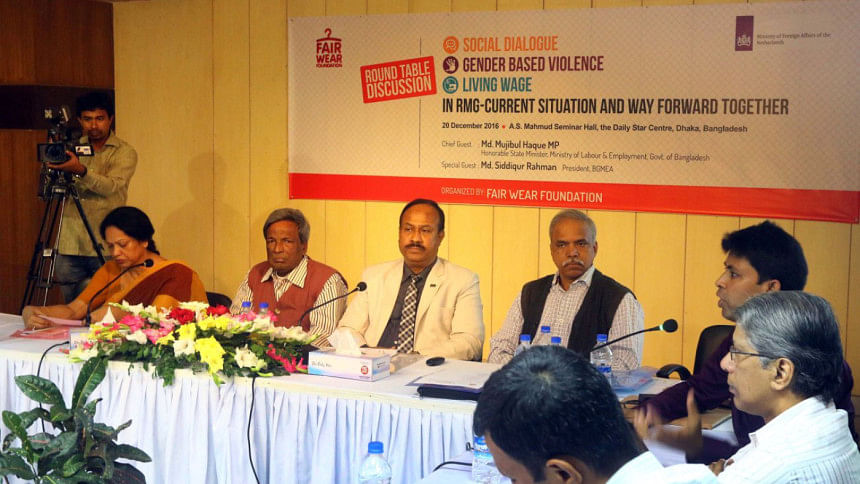 Ignorance of the rights and responsibilities is the main reason behind the harassment of garment workers at their workplace, Mujibul Haque, state minister for labour and employment, said yesterday.
Since the workers are not aware of their rights and responsibilities, they cannot form trade unions to protect them from harassment, the minister added.
Although the rate of harassment, like sexual violence, has declined significantly over the years, such incidents still take place at factories, he said.
"We have to change the situation as every worker has his or her dignity at work and employment," said Haque.
He spoke at a roundtable on gender-based violence and living wage in the apparel sector held at The Daily Star Centre in Dhaka.
Fair Wear Foundation, a rights group for garment workers, organised the event.
On the formation of trade unions, the minister said workers complain that the ministry does not allow new unions; it is not true.
The ministry always welcomes new unions if the workers submit the application for the registration of unions following the rules of the labour law.
In her keynote, Mashuda Khatun Shefali, executive director of Nari Uddug Kendra, said female workers do not even have the right to spend their own monthly wages.
They give their salaries to their husbands, as they do not enjoy freedom, she added. Similarly, the female workers become victims of harassment at their workplace, she said.
Amirul Haque Amin, president of National Garment Workers Federation, a rights body, said factory management prefers to control and force the female workers, rather than convince and motivate them.
"We need to hold continuous social dialogues to solve the problems of harassment at the workplace."
In most cases, the workers are not called to participate in the process of social dialogue, although they are a vital partner of such an initiative, he added. "This is why social dialogues do not become effective."
Syed Sultan Uddin Ahmed, assistant executive director of Bangladesh Institute of Labour Studies, said the Bangladesh government ratified six out of eight core conventions of the International Labour Organisation.
"So it is the government's responsibility to fix a decent salary structure for the workers."