Solar energy reduces rural poverty
Analysts say at Bangladesh Clean Energy Summit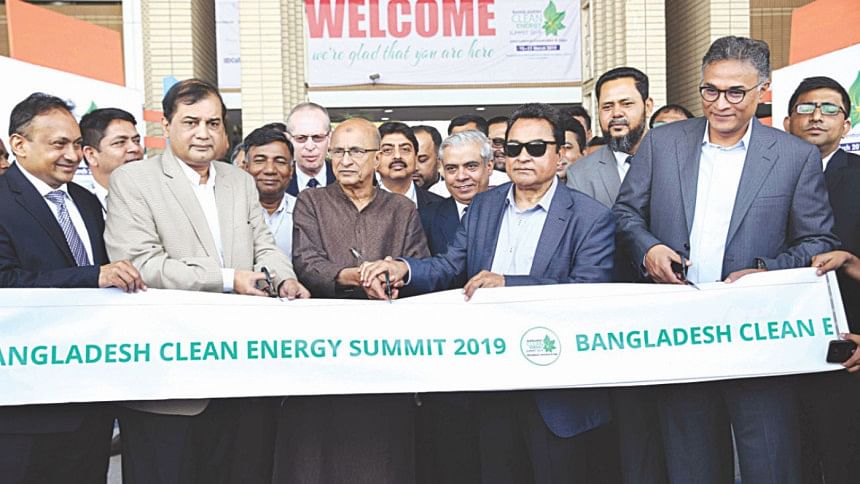 Solar home system (SHS) is helping reduce poverty in remote areas of Bangladesh through income-generating activities, industry people said yesterday.  
The number of SHS installation reached 6.8 million in 2018, which provides electricity in the remote areas through off-grid power services.
They made the comments on the sidelines of the two-day "Bangladesh Clean Energy Summit 2019" organised by Infrastructure Development Company Limited (IDCOL) at the Bangabandhu International Conference Centre in Dhaka.
According to a World Bank study, SHS can have immediate impacts: it enables households to have light after nightfall, makes study easier in the evenings and allows people to watch TV which inspire them to take part in different activities.
Furthermore, it can lower the levels of household air pollution through reduced use of kerosene and may even generate extra income by renting charger for mobile phones.
SHS prices have fallen within the reach of low-income people in rural areas in the last three/four years due to the availability of products and government subsidy, said Zohurul Islam, an executive of Rahimafrooz, a Bangladeshi solar panel maker.
He said people can install a 120-watt SHS at their homes at a cost of Tk 20,000 to Tk 35,000. Even the customers can clear the payment through monthly instalment, Islam said.
"With the capacity of an SHS, a customer can use three to four LED bulbs, one solar power-run fan and a television, sufficient for a household."
Islam said Rahimafrooz offers solar irrigation pump at Tk 6 lakh, which will be able to lift 3 lakh litres of water every day. He also put emphasis on formulating an import and manufacturing guideline to improve the sector.
Md Shajahan Ali, a marketing officer of Energypac, said they are displaying solar LED bulbs, circuit breakers, switch circuits and ceiling fans at the summit.
He said the prices of their products, run by solar energy, are very reasonable.  Sujan Talukder, head of marketing at Radiant Alliance, a concern of Omera Solar, said they assemble solar panels and offer mini-grid solar power plant with capacity of 1 MW to 1.5 MW.
He believes SHS and solar mini-grid would play a big role in developing the economy directly as these would enable people can use electricity in off-grid areas for their economic activities. Earlier, Finance Minister AHM Mustafa Kamal said climate change is a serious threat to humankind due to carbon emission from fossil fuel.
He said 80 percent of the energy is coming from fossils that are degrading the environment and everybody around the world has been suffering from it.
Tawfiq-e-Elahi Chowdhury, energy affairs adviser to the prime minister, stressed the use of solar power and green energy to protect the environment and climate from further destruction. Among others, Ahmad Kaikaus, senior secretary to the power division; Mahmood Malik, executive director and CEO of IDCOL, and Manmohan Parkash, country director of the Asian Development Bank, also spoke at the programme.
In the show, more than 63 stalls from local and international manufacturers and suppliers of various renewable energy, energy efficiency, green finance and green building technologies are exhibiting their products and services.
Some 25 of the exhibitors have come from 10 countries, including India and China.