Singer opens refrigerator plant in Savar
Singer Bangladesh's profit soars 153pc in April-June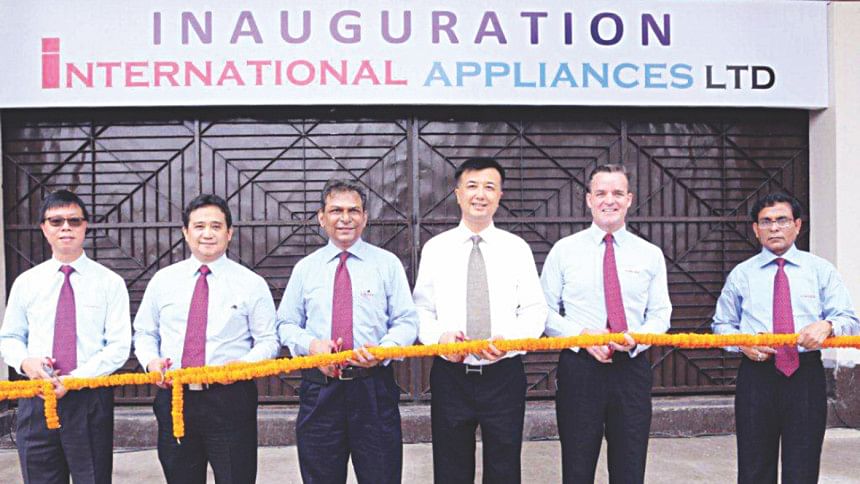 Singer Bangladesh opened a new refrigerator plant at Savar in Dhaka yesterday, according to a statement.
The factory is part of International Appliances Ltd, which is majority owned by Singer, in a joint venture with a large international home appliance manufacturer based in China.
The refrigerators feature the latest designs and technology, highest quality materials and are sold at competitive prices in a wide range of popular colours.
Commercial production has commenced for sale in Singer shops and dealers countrywide.
Meanwhile, Singer Bangladesh's net profit in the April-June quarter soared 153.3 percent year-on-year to Tk 20.29 crore, driven by stable trading conditions, additional marketing initiatives and new product offerings.
"I am very pleased with the progress made in 2016. The turnover for the six months increased 37 percent, driving a sharp improvement in net income of over 2.5 times boosted by higher gross margins, controlled operating expenses and lower interest costs," said Gavin Walker, chairman of Singer Bangladesh.  "The new manufacturing initiatives underway have tremendous potential for the future. We will continue investing considerably in advertising as the year progresses," he added.
Turnover of the listed firm increased 42.3 percent to Tk 270 crore in the second quarter, according to the statement.
Its gross margin also rose to 27.9 percent in the quarter, from 25 percent in the same quarter last year.
The margins increased despite the attractive prices and promotions on offer to customers, driven by efficient purchasing and lower buying prices.
The company also focused on managing its operating expenses, which came down to 15.7 percent of turnover, down from 17.4 percent a year ago.
Singer was listed on the stockmarket in 1983. Each share of the company traded between Tk 156.6 and Tk 162 on the Dhaka Stock Exchange yesterday before closing at Tk 157.3.
Sponsors own a 72.77 percent stake in Singer, institutional investors 6.25 percent and the general public 20.98 percent.