Shrimp exports fall for fourth straight year
Local consumption cushions the effect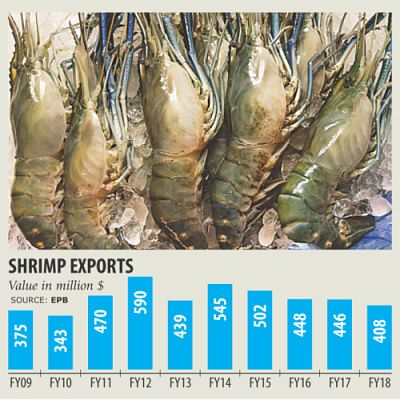 Shrimp exports fell for a fourth consecutive year in 2017-18 in the face of persistent weak demand in the international market for the locally farmed shrimp.
Export earnings from shrimp fell 8.37 percent to $408 million in the just concluded fiscal year, according to the Export Promotion Bureau.
Vannamei shrimp, grown in most Asian countries except Bangladesh and some Latin American countries, dominate the world market because of its low prices compared to black tiger and fresh water prawn farmed by 8.33 lakh growers on 2.75 lakh hectares largely in the southwestern coastal districts in the country.
"We are falling behind the competition with Vannamei shrimp," said Kazi Belayet Hossain, senior vice president of the Bangladesh Frozen Foods Exporters Association.
Vannamei is sold $2-$2.5 less than the prices of black tiger per pound in the international market, he added. The prices of both black tiger and freshwater prawn have been declining for the last couple of years owing to the increased demand for Vannamei.
Local exporters could sell black tiger at $8.70 per pound last year but now get only $6, said Hossain, also the managing director of Sobi Fish Processing Industries Ltd.
In terms of quantity, shrimp exports declined about 9 percent to 36,167 tonnes in 2017-18, the lowest since 2001-02. Some 39,705 tonnes of shrimp were shipped in 2016-17, according to the Department of Fisheries. Bangladesh fetched the highest $590 million from shrimp exports in 2011-12, but it began to decline since 2013-14 both in value and volume.
In the face of the consistent low prices in the global market, the local market has emerged as a cushion for farmers in recent years, thanks to rising income and purchasing capacity of people.
"Common people can afford black tiger shrimp now – a thing that could not be imagined a decade ago," said Md Masudur Rahman, managing director of Sea Fresh Ltd, a processor and exporter.
At present, fish traders sell black tiger shrimp at Tk 500-550 a kilogramme in the Dhaka market.
Hossain said exports are not viable if exporters have to buy shrimps at such a higher price.
"The domestic demand for shrimp is strong, and the prices in the domestic market are higher than those in the international market," he said.
Hossain demanded that the government increase the amount of cash subsidy from the existing 10 percent so that exporters can sustain competition in the global market.
"Farmers should be given low cost loans on easy terms," he said.  
Britain is one of the big markets for the local shrimp, but the export destination faces uncertainty over Brexit, said Rahman, adding that the British market may improve if issues surrounding Brexit are resolved smoothly.