Samsung opens two appliance plants in Bangladesh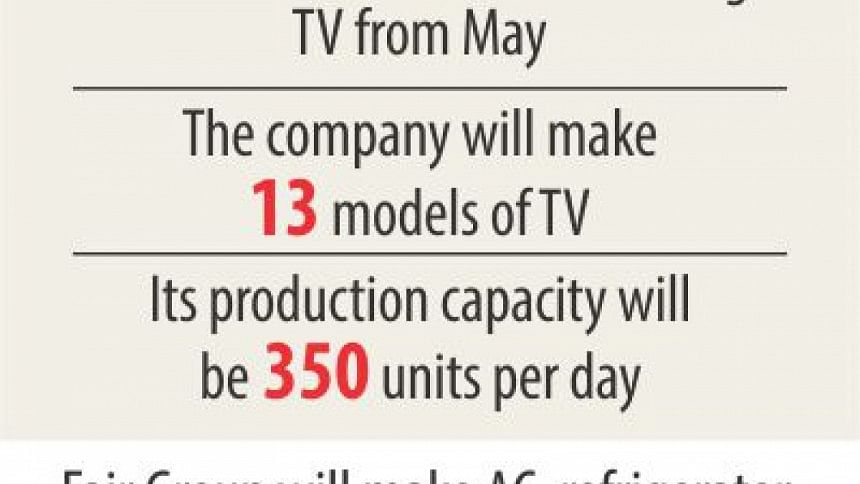 South Korean technology giant Samsung is set to inaugurate two factories in Bangladesh today with a view to manufacturing four home appliance products -- a move that can be viewed as recognition of the country's engineering capabilities.
The plants, where LED television, refrigerators, air conditioners and microwave oven will be manufactured, have been set up in joint venture with local Transcom Group and Fair Electronics.
At present, Bangladesh is mostly reliant on imports for the products, so the move will not only make the appliances cheaper but also help the country save huge amounts of foreign currency every year.
Under the deal struck with Transcom Electronics, Samsung will manufacture LED television at the former's state-of-the-art facilities in the capital's Mohakhali area.
The plant on 18,000 square feet started manufacturing televisions on a test basis from last month.
"The televisions are very high in quality," said Yeamin Sharif Chowdhury, Transcom Electronics's head of business.
Some 13 models of televisions -- all of which would be less than 55 inches -- will be manufactured at the plant, with some of the components brought in from Vietnam. The factory will be operated by 85 engineers, while Samsung will provide technological support.
"The factory will be one of the most prestigious ones in Bangladesh, one that will be helpful in the country's branding," Chowdhury added.
The televisions will be cheaper than the imported Samsung ones currently available in the market, according to Md Shakil Choudhury, Transcom Electronics's general manager for finance and accounts.
Samsung currently has five distribution partners and the factory will supply televisions to them.
"The local demand is rising every day as our economy is scaling high," Choudhury said, adding that there are no plans to export the products.
The existing market for televisions stands at about ten lakh units a year. Of the sum, branded products account for 40 percent.
"Transcom wants to grab a big chunk of the market share from this branded televisions segment," Choudhury added.
The plant will be inaugurated by KooYeun Choi, strategic business group leader of Samsung Electronics, and Taeho Park, Samsung's consumer electronics head for southwest Asia.
The other factory, which will be run by Fair Electronics, will be situated in Shibpur of Narsingdi.
The plant will manufacture refrigerator, air conditioner, microwave oven and television. Fair Electronics has plans to branch out to other popular home appliances like washing machine.
Fair Electronics has already started manufacturing refrigerators at the plant and will shortly go into production of the three products, said Ruhul Alam Al Mahbub, chairman of Fair Group.
"We are investing $100 million and Samsung's investment is technology and knowledge," Mahbub said, adding that the company is aiming to grab 30 to 40 percent of the market share of the products in terms of value within next three to four years.
There are opportunities to export Bangladesh-manufactured Samsung products but for that the government's support needs to increase and some policy needs to be made clearer, he added.
The plant, which will employ about 3,000, will be inaugurated today by Industries Minister Amir Hossain Amu, ICT State Minister Zunaid Ahmed Palak and Korean Ambassador Ahn Seong-doo.
Samsung's move was lauded by Palak yesterday at parliament during a session on the proposed budget for 2017-18.
Earlier, he told The Daily Star that Samsung's initiative can encourage other global brands to follow suit and park their funds in Bangladesh.
Samsung's first factory in the subcontinent was in India's Uttar Pradesh in 1997, where it assembles mobile phones, refrigerators and LED TVs.
And in November 2007, it set up another plant in Tamil Nadu, where it manufactures LED TVs, washing machines, refrigerators and split air conditioners.
Since its founding in Korea in 1969, Samsung Electronics has grown into a global information technology leader, managing more than 200 subsidiaries around the world.