Robi posts Tk 171cr loss in first quarter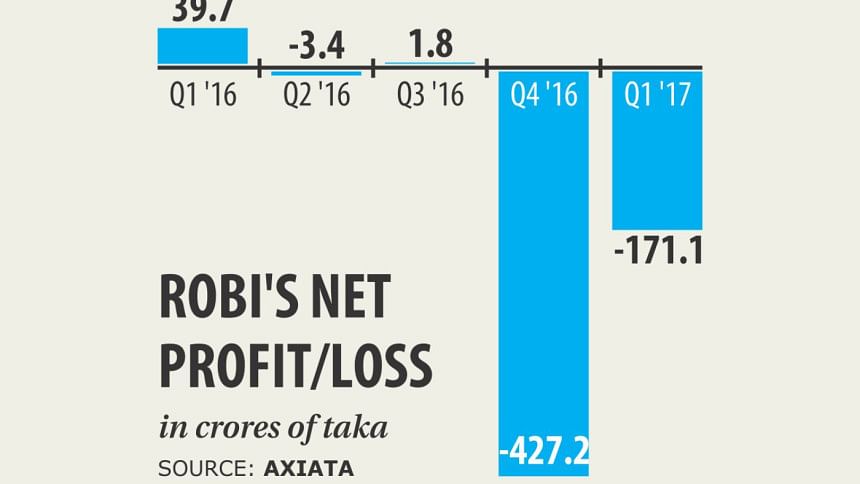 Newly-merged mobile phone operator Robi posted a net loss of Tk 171.10 crore in the January-March quarter as a consequence of merger-related expenses.
The operator had made a net profit of Tk 39.70 crore during the same quarter in 2016, before its merger with Airtel in November.
Robi had been a profitable venture in recent years. The operator, however, lost Tk 389 crore in 2016 as it paid merger fees and spectrum charges and financed nationwide network modernisation work.
The second largest operator yesterday published its financial results for the quarter.
It said the high taxation regime coupled with heavy investment demands is putting tremendous strain on the company's cost structure, discouraging sustained investment.
Robi's revenue grew 30.71 percent year-on-year to Tk 1,546.90 crore in the January-March quarter, with incomes from data sales contributing 83 percent to the growth, according to its financial report. "During the first quarter we continued to bring the most innovative and affordable product offers to the market," said Mahtab Uddin Ahmed, chief executive officer of Robi, in a statement.
"We started this year with an expectation to provide the widest mobile network coverage and superior mobile services experience to our subscribers," he said, adding that the operator has successfully completed network integration in 12 regions covering 50 percent of Airtel's subscribers.
Robi added 24 lakh new customers in the quarter to take its total subscriber base to 3.62 crore, grabbing a 27.5 percent market share.
The operator invested Tk 410 crore as capital expenditure in the first quarter to expand and improve the network.
Robi has network coverage in all 64 districts through its more than 12,000 sites, of which over 7,900 are 3G sites.
Although the network integration work is going on smoothly, the absence of tech-neutrality facility is making it difficult to ensure expected service quality, said the company.
In the first three months of the year, Robi contributed Tk 680 crore to the exchequer.